Saltfleet District High School 90-Year Fund Raising History Book
Saltfleet District High School 90-Year Fund Raising History Book
The Saltfleet Retired Teachers' Fraternity (SRTF) has produced a 300-page, comprehensive 90-year history of SDHS from 1927-2017.  This Book has already raised $2,500 for 'Leadership Bursaries' for the school, and all profits will continue to support the school.
The Book includes every aspect of the school's social history … including sports, drama, music, various clubs and groups; special events, tours, cadets and soldier profiles, student newspapers and productions; as well as changes in education and traditions throughout the decades.  Also, many photos augment the  articles.
It was completed as a tribute not only to the school's 90th anniversary, but also as a project for the Stoney Creek Historical Society to help commemorate Canada's 150th birthday.
The Book can be purchased at 'Comic 1 Books' at 67 King St. East in Stoney Creek (905-664-3777), located in the small plaza next to McDougall's Garage.  The price is $20.
Comic 1 Books is taking names on a wait list and a $10 deposit.  You can visit the store or call the store in advance (905-664-3777) and place an order.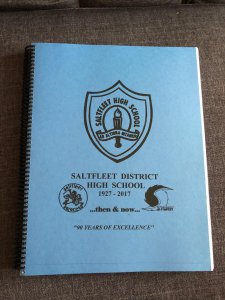 Updated on Thursday, February 28, 2019.