HWDSB Summer Experience Showcase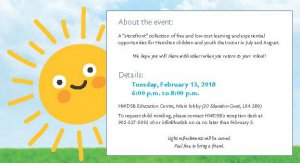 In support of communicating with parents/caregivers and partners, the HWDSB Parent Involvement Committee is hosting a Summer Experiences Showcase on February 13 at the HWDSB Education Centre. This event will follow a showcase/storefront format with HWDSB departments and community partners sharing summer opportunities for students (low-cost/free programs, volunteering, employment) during July and August.
PIC-Summer Opportunities for Students Flyer 2018
Updated on Friday, February 02, 2018.