SPIRIT DAY – Friday, May 20th – Dress Like a Book or Movie Character Day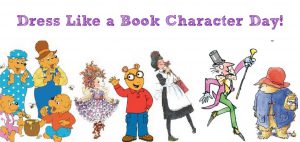 Students & staff are invited to dress up as a favourite BOOK (or MOVIE) character! Show your love for all things literacy & media literacy!
Similar to Hallowe'en, students are reminded to consider cultural sensitivity, identity, and appropriation when choosing their character. In the same way, please leave any large accessories, gory details and/or "weapons" at home (magic wands are excepted). If you are aren't sure, your classroom teacher can help guide you ahead of time.
Student Council
Updated on Friday, May 13, 2022.