"Every Child Matters" Button orders due May 4th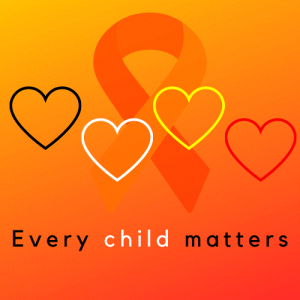 Dear Families,
May 28th, 2022 is the one year anniversary of the confirmation of child graves near the Kamloops Residential School. Rousseau families showed their respects last June by creating an "Every Child Matters" display of children's shoes outside of Ancaster Public Library, inspired by similar installations elsewhere in the country. Families will notice that our September 30th "Every Child Matters" flags purposely continue to be on display at our school, and staff and students continue to reflect this year in class.
Last month, HWDSB notified families by email of an "Every Child Matters" Button Campaign. Indigenous student initiative CC:ROSE (Cultivating Community: Reclaiming Our Spaces in Education) is raising awareness by providing orange buttons to schools, with a suggested donation of at least $1.00 per button. Families were notified of this initiative by HWDSB and through a notification from School Cash Online.
Button orders are due May 4th (this coming Wednesday). Please consider supporting this initiative.
You can view the original HWDSB post here:
https://www.hwdsb.on.ca/blog/indigenous-student-group-ccrose-raises-awareness-with-every-child-matters-initiative/
Rousseau Staff
Updated on Monday, May 02, 2022.