Year End Message
Hello Legends!
It is incredible to think that four years have passed since I arrived at Ray Lewis.  During that time, I have formed some wonderful memories and great connections with staff and students.  I will look back fondly on my time at Ray Lewis School!
This year didn't turn out the way any of us had planned.  But I am proud to say that we all worked together, made the best of a difficult situation, and continued to Pursue the Dream!
I hope that you all can take some time to enjoy the summer holidays and prepare for what might be a difficult start to school in September.  Continue to read, write, wonder and question!  I wish you all the best in your educational journey, and I was proud to be a small part of it.
To the Class of 2020, a special congratulations.  Our Virtual Graduation was a nice tribute to your class and I know we all wish you much success in secondary school.  Don't forget to pursue your dreams there too!
While I won't be returning in the fall, as I move to Sir Wilfrid Laurier School, I will think of you all often.
As is our tradition, see below for the staff "waving off the buses", as we normally would on the last day of school!
Principal Moore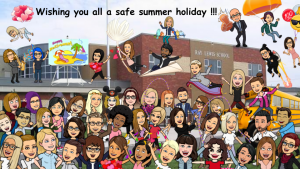 Updated on Friday, June 26, 2020.