The Hamilton Prayer Breakfast Committee is grateful for the ongoing support of their community partners! See below for details about the 2023 event, or click here to access the PDF invitation.
Tuesday, May 9, 2023
7:30 a.m.
Doors open at 7 a.m.
LIUNA Station
360 James Street North
Additional Parking Lower level LIUNA Station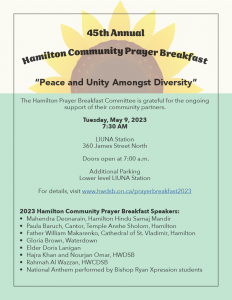 Ticket Information:
Kindly make cheques payable to:
"Hamilton Community Prayer Breakfast"
Please return cheques and a copy of this ticket order to:
Dawnmarie Warburton
Hamilton Paramedic Service
489 Victoria Ave. N. Hamilton, ON L8L 5H1
Please order tickets prior to May 1, 2023.
For additional information about eTransfer options, please contact:
Dawnmarie Warburton
dwarburt@hamilton.ca 905-546-2424 ext 6539
2023 Hamilton Community Prayer Breakfast speakers include:
Mahendra Deonarain, Hamilton Hindu Samaj Mandir
Paula Baruch, Cantor, Temple Anshe Sholom, Hamilton
Father William Makarenko, Cathedral of St. Vladimir, Hamilton
Gloria Brown, Waterdown
Elder Doris Lanigan
Hajra Khan and Nourjan Omar, HWDSB
Rahmah Al Wazzan, HWCDSB
National Anthem performed by Bishop Ryan Xpression students
Updated on Wednesday, April 12, 2023.