NEW**(March 5, 2021)
My child has COVID – now what?
---
(older posts)
Attention OP Students/Parents/Guardians:
**If your child is returning to school following illness or self-isolation, please complete the following form:
Attestation for return to school after illness OR self isolation
WHO IS CONSIDERED A CLOSE CONTACT: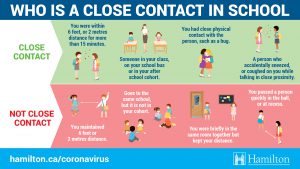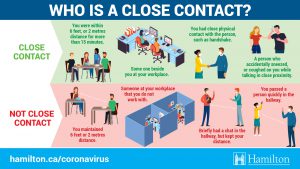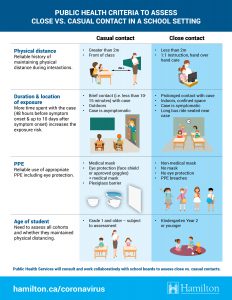 **Rotation 3 begins Wednesday November 11, 2020.  Please see Bell Schedule below:
OP Regular Bell Schedule ROTATION 3.docx
A few reminders:
If your child is returning to Face-to-Face learning for Block 1 (from previously being a Remote Learner), please be sure to complete the Student Attestation Form on the Parent Portal
Please also indicate whether your child will be going home OR staying at school after Block 1 to continue Remote Learning in the afternoon (Secondary Afternoon Learning Option), also on the Parent Portal
Based on the location of the student's Block 1 classroom, their exit and entry door may change.
Student's staying for lunch and/or afternoon study will need to check with their teachers for their assigned locations.
Student's may enter the school before 7:45am if necessary.  Where possible, students are still encouraged to enter the school after 7:45am to promote and maintain social distancing.
If a student becomes symptomatic or fails the screening process, the parent/guardian must complete the Return to School/Childcare attestation form. This form can be completed on the Parent Portal under "Forms" as of Monday, November 2.If parents cannot access the Parent Portal, they can complete a paper copy. Here is the link to the form:
If you have any questions, please contact the school at 905-662-3838
Updated on Friday, March 05, 2021.