Results of Family Thoughtexchange on Distance Learning during COVID-19 Pandemic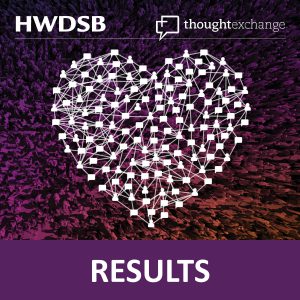 Hamilton-Wentworth District School Board (HWDSB) welcomes the results of its first Thoughtexchange conversation, in which families shared their input on distance learning during the COVID-19 response.
Thoughtexchange is an online engagement tool that can crowdsource a community's answers to one question, in real time. HWDSB is using Thoughtexchange to improve the way it delivers student learning and supports from a distance during the COVID-19 pandemic.
"As a learning institution, we are open to feedback and welcome this input from families that will help us be more responsive," said Director of Education Manny Figueiredo.
"We know our staff are doing incredible work during this crisis, but we aren't perfect. This input will improve our approach and guide our decisions as we move forward."
A Thoughtexchange has three steps. First, participants share their thoughts; next, they see each other's thoughts and add stars to them; and then, they see the shared results of all thoughts and stars combined.
The Thoughtexchange asked families: Now that you have experienced distance learning, what is working well and what can we improve?
Updated on Friday, May 22, 2020.