Reminder for students attending in-person – attestation required to enter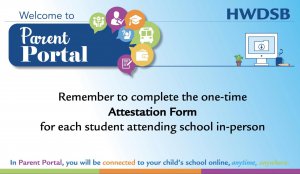 This is a reminder for all students attending school in person.
Students cannot attend school until their family completes an attestation to let us know that they understand pandemic expectations. This must be submitted. If you have already completed the attestation, you do not need to do it again.
All families must also screen their child daily to ensure students stay home if they have COVID-like symptoms. The daily screening checklist must be reviewed, but not submitted.
These important forms are available for parents/guardians (or students over age 18) to complete on the Parent Portal, which can be translated into French, Spanish, Arabic, Urdu, Punjabi, Chinese, and Serbian. If you cannot complete the attestation(s) through the Parent Portal: email a signed copy of the form to the school; or, complete the form and call your school to arrange a drop off time when staff can receive the form through a contactless process. Learn more about screening and other Enhanced Public Health Measures.
Return to School Attestation
Before starting school in person, a student's parent/guardian/caregiver or the student over age 18 must complete a one-time attestation regarding daily screening for COVID-19 symptoms.
Student Attestation Form ENGLISH
Arabic    Farsi    French    Karen    Korean    Kurdish    Simplified Chinese    Somali    Spanish   Swahili  Urdu    Vietnamese
Student Daily Screening Tool
Review this screening for COVID-19 symptoms daily before your child arrives at school. If you answer Yes to any questions, or refused to answer, the student has failed the screening and must not attend school and should contact Public Health (905) 974-9848 or your family doctor for testing.
Student Daily Screening Checklist ENGLISH
Updated on Sunday, September 13, 2020.