The Ministry of Education has allowed for amended Community Involvement Opportunities for all students during the COVID-19 restrictions.
What Stays the Same
What Is New
For students graduating in the 2020-21 school year, the community involvement graduation requirement will be reduced to a minimum of 20 hours of community involvement activities.

Please note: This exception is ONLY for students who are graduating in the 2020-21 school year. If you are unsure whether or not you will be graduating in the 2020-21 school year please email your guidance counsellor.

Completion of community involvement hours have amended parameters for 2020-2021, including when and how students complete these hours. See the table below for more details.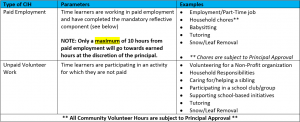 Reflection:
Requesting Principal Approval:
Please fully complete the Record of Community Involvement Hours form and the Community Involvement Hours, Learning Through Reflection
Once completed, scan and email the documents to your guidance counsellor who will review the hours and submit them for the principal's approval.
If you are unable to scan and email the documents you can drop them off to the Student Services Secretary, Mrs. Vooys.
Updated on Wednesday, May 12, 2021.