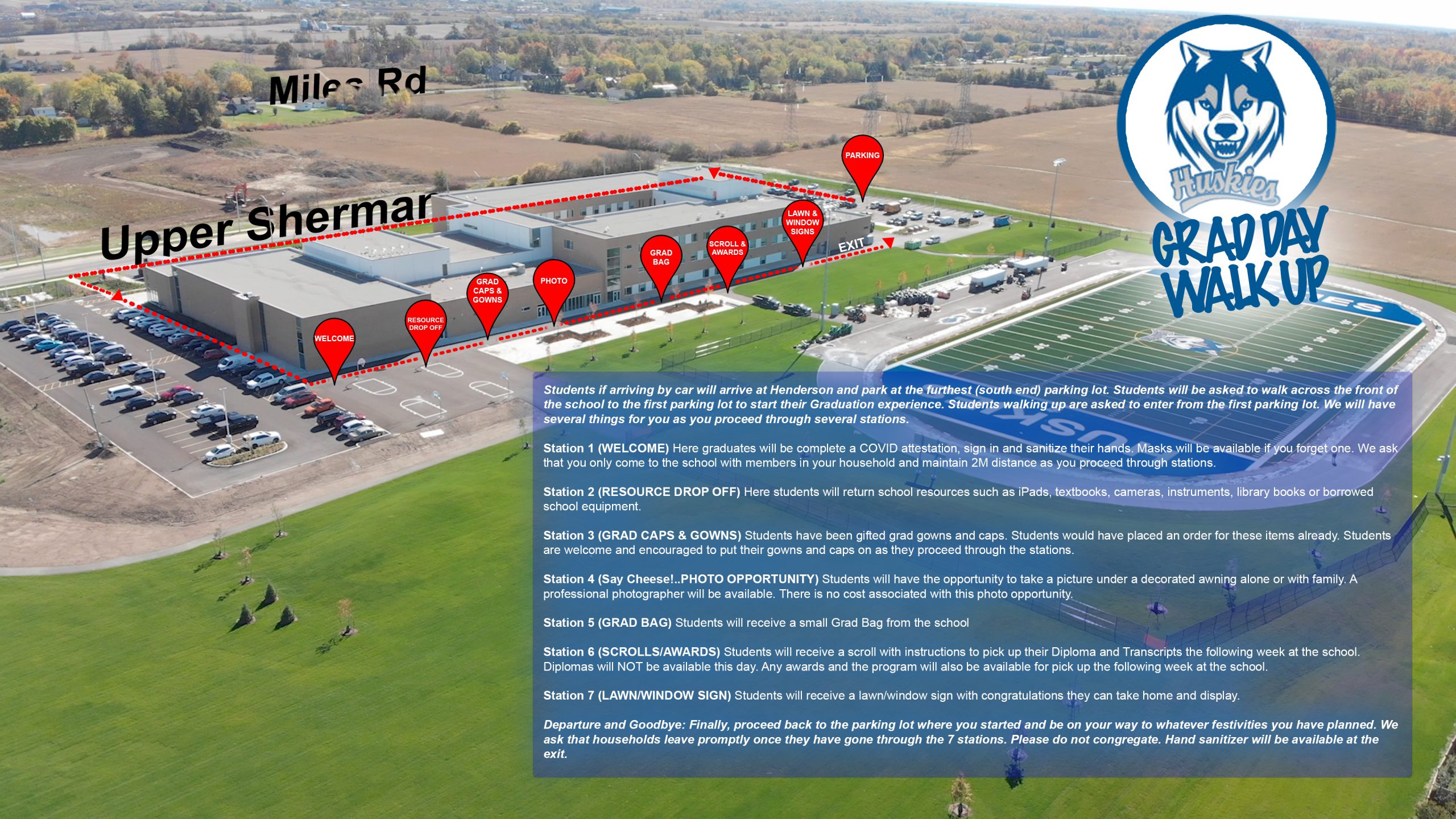 CONGRATULATIONS CLASS OF 2021!    
We are excited to invite our Grade 12 students and members of their households to the
Walk Through Graduation Celebration!
Being held at the back of Nora Frances Henderson school by the turf field on
Thursday June 24 10-6 pm
(June 25th Rain Date) 
By appointment only
                                      Booking your Grad Day walk up (June 24th from 10-6 pm)
*Students will book a 20-minute block to experience the walk-up Graduation
*At noon on Thursday June 17th, our online booking system will open. You will need your 5 or 6-digit student number found on any report card you may have.
How to Book your Appointment
Instructions
1. Go to the scheduling webpage at https://henderson-grad.parentinterview.com
2. Enter your HWDSB Student Number
3. Fill in your contact information and click "Continue to Make Appointments"
4. Click on "Graduation Appointments"
5. Click on an Available time at which you wish to attend the school
6. Click on "My Schedule" (top left of the page)
7. Print out, email or copy down your appointment time
Should you wish to delete an appointment you have made click on 'Delete"- next to your appointment time. Once you delete your appointment, that time slot will become available for other parents.
Sign up for your preferred time. If you have questions, experience problems booking, or need special considerations (i.e., accessibility requirements) contact us at or call 905-389-2234 or at https://www.hwdsb.on.ca/henderson/contact/
Congratulations Huskies!!
Thursday June 24th Grad Day walk up:
Students if arriving by car will arrive at Henderson and park at the furthest (south end) parking lot.  Students will be asked to walk across the front of the school to the first parking lot to start their Graduation experience. Students walking up are asked to enter from the first parking lot.  We will have several things for you as you proceed through several stations.
Station 1 (WELCOME) Here graduates will be complete a COVID attestation, sign in and sanitize their hands. Masks will be available if you forget one. We ask that you only come to the school with members in your household and maintain 2M distance as you proceed through stations.
Station 2 (RESOURCE DROP OFF) Here students will return school resources such as iPads, textbooks, cameras, instruments, library books or borrowed school equipment.
Station 3 (GRAD CAPS & GOWNS) Students have been gifted grad gowns and caps. Students would have placed an order for these items already. Students are welcome and encouraged to put their gowns and caps on as they proceed through the stations.
Station 4 (Say Cheese!..PHOTO OPPORTUNITY) Students will have the opportunity to take a picture under a decorated awning alone or with family. A professional photographer will be available. There is no cost associated with this photo opportunity.
Station 5 (GRAD BAG) Students will receive a small Grad Bag from the school
Station 6 (SCROLLS/AWARDS) Students will receive a scroll with instructions to pick up their Diploma and Transcripts the following week at the school. Diplomas will NOT be available this day. Any awards and the program will also be available for pick up the following week at the school.

 
Station 7 (LAWN/WINDOW SIGN) Students will receive a lawn/window sign with congratulations they can take home and display.
Departure and Goodbye: Finally, proceed back to the parking lot where you started and be on your way to whatever festivities you have planned. We ask that households leave promptly once they have gone through the 7 stations. Please do not congregate. Hand sanitizer will be available at the exit.
VIRTUAL CELEBRATION will be released on Friday June 25th at noon
 We will share this event in a HWDSB platforms such as MS Teams and the HUB and access will be restricted to grade 12s through your HWDSB accounts. You will need to use your Board email account.
I'd also like to remind everyone of the Virtual Classroom Guidelines for Privacy and Security, especially that recording and screenshots are not allowed.
Other helpful information:
Communication:  Details of this event will be posted on our school website (look for the Graduation Cap Icon, synervoice and   through our school messenger. If you have any questions, please call the school at 905 389 2234.
Protocols and Protective measures: Our celebration has been vetted through HWDSB in consultation with Public Health. All students and staff 
Who can I bring that day? Please come with members of your immediate household. They will need to complete the screen when they enter, wear a mask and physically distance as you go through the stations.
How do I dress for the day?  Please wear whatever you feel comfortable wearing and what you would like to be photographed in. Some of you may want to go casual and some of you may want to dress up. This is your day so wear what celebrates you.  You will also be receiving a cap and gown that you may choose to wear over your clothing. 
Diplomas, Transcripts, Programs and Awards: Many of your official documents will be finalized at the end of the semester on June 28th. You will receive whatever is available on June 24th, however Diplomas and Transcripts will be available for pick up the following week at the school between 8:45am – 4 pm daily.
If you still have questions about Grad Day, bookings, transcripts, post-secondary plans etc. please contact the school at 905 389 2234 or at https://www.hwdsb.on.ca/henderson/contact/
We are looking forward to seeing you!
Graduation Information
Problems viewing this page? Click here to open a new tab.
Grad Breakfast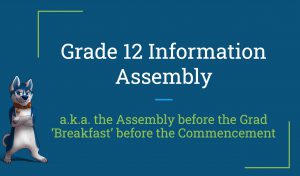 Click here for the Grade 12 Information Assembly Slide Show.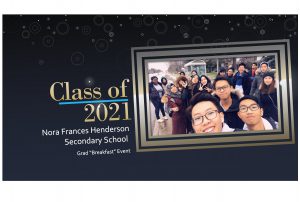 Click here for the Grad Breakfast slideshow.
Photos, Media & Important Links!
Click here for the link to grad class photo dump (candid and Then and Now) in Google Drive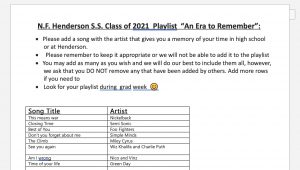 Click here for the link to the 2021 "An Era to Remember" song playlist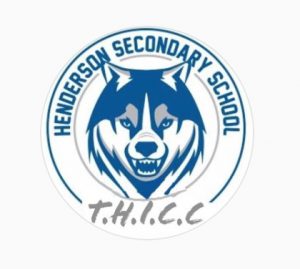 @henderson_thicc instagram profile for grad class Then and Now photos on Instagram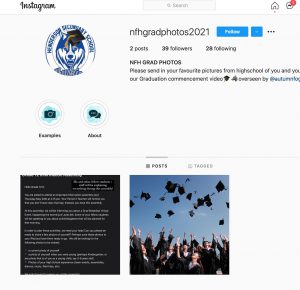 Click here for the link to grad class candid photos on Instagram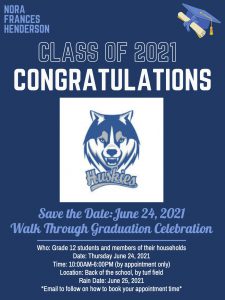 Also, any students who missed grad photos, they will be taking place on June 11th. We are waiting for further directions from public health.
Updated on Tuesday, June 15, 2021.