Food Drive- Greensville Hawks and Home and School Collaboration!
Hello Greensville School Community! 
We are excited to get a new school year under way and are looking forward to bringing you exciting events and fundraisers to obtain "The Best for Each Student". This is the Home and School Association Mission Statement, and we are always striving for new ways to achieve this mission. 
We are a committee that is made up of parents, staff, and community members, all on a voluntary basis, to create a network of proactive involvement in our homes, our schools and our communities. 
This year's executive members are: 
Kristin Weber – President
Pam Crichton – Vice President
Erin de Sousa-Bruce – Secretary
Anne Campbell – Treasurer
Our first event is a Winter Wear & Food Drive happening October 29th and 30th. Please have a look through your closets and collect any pre-loved outerwear (coats, jackets, hats, scarves, boots, etc.) that still have life left in them. We will be collecting these winter outer wear items and donating them to a school we are partnering with in the Hamilton area.
Non perishable food items will be collected for the Flamborough Food Bank. 
Please drop off winter wear items and food drive items to: 
68 Kirby Ave (off Hwy 8, across from the *old* Greensville Library)
Friday, October 29th from 6-8pm
Saturday, October 30th from 9am-1pm
Thanks so much for your support! 
We are looking forward to a great year ahead. 
Your 2021-22 Greensville Home and School Association 
Greensville Home and School Newsletter
Greensville H&S Newsletter March 2021
Did someone say Scavenger Hunt (1)
Art and Home and School!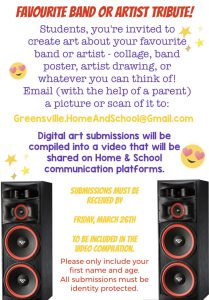 Dec. 9, 2020
Home and School Minutes
November 19, 2020
Spencer Valley Elementary School Fall Fundraisers 2020 (1) (1)
Please find attached Home and School Minutes and Agenda for tonight's meeting.
Jan 21, 2020
Sorry for the inconvenience, but the SVS 2020 Dance of the Decade (Thursday Jan 23) has been cancelled.
Oct. 30, 2019
Please see attached list of events and fundraising for the 19-20 year!
Dear SVS Students & Families,
Home & School has been busy planning the events and fundraisers for this school year and we'd like the opportunity to share them with you so you can mark your calendars! Rest assured we will still issue reminders closer to the dates, but a general snapshot is always helpful!
Home & School Calendar of Events
Event                                                  Date                                                    Type
Fundscrip Gift Cards                            now – November 29*                           Fundraiser
Winter Market                                      November 29, 2019                              Event/Fundraiser
Talent Show                                         January 23, 2020                                  Event
Bake-Off Competition                          February 28, 2020                                Event
Beeswax Wraps                                    March 23 – April 10, 2020                                Fundraiser
Vessey Bulbs Campaign                                   April 20 – May 11, 2020                                   Fundraiser
Fun Fair                                                           May 29, 2020                                       Event/Fundraiser
Fundscrip – Purchase a variety of Gift Cards through this organization and SVS receives profits back from each purchase! *This campaign is ongoing through the year, though please note that Holiday orders are due by November 29th.
Winter Market – Vendors are booked to sell their goods at our marketplace in the gymnasium; students are also invited to apply to sell goods at a community SVS table display. The fundraising is accomplished through selling "spots" to vendors, with the profits of their admission charges benefiting the school. Students will not be charged for a table. Details will be provided to each Student Vendor applicant regarding minimum stock requirements, display, etc.
Talent Show – A sign up sheet will be posted in early December for students to secure a spot for the talent show. Practices in the gym will be arranged in January.
Bake-Off Competition – Students are invited to submit a home baked good for the after school competition
Beeswax Wraps – It's an eco-friendly fundraiser! You will be able to purchase reusable sandwich and food wraps, along with snack & produce bags! Earth Day delivery
Vessey Bulbs – A huge variety of perennial bulbs will be available for purchase, delivered just in time for May planting!
Fun Fair – Join us for an evening of games, prizes, food, raffles/auction and more at our Annual Fair!
Please note that each event and fundraiser is open to all students and families but is not mandatory participation. With specific attention to the fundraisers, please know that there is no pressure to take part. If you wish to donate in lieu of fundraising, you're welcome to write a cheque payable to Spencer Valley Home & School Association.
If you wish to assist in any of the events or fundraisers, please connect with Kristin Weber (mkweber@cogeco.ca) or Erin de Souza-Bruce (erinvdsb1978@gmail.com).
Thanks and looking forward to seeing you there!
Spencer Valley Home & School Association
SEptember 19, 2019
Meeting Dates 2019-2020
September 17, 2019
October 22, 2019
January 21, 2020
February 25, 2020
April 21, 2020
Fun Fair May 29, 2020
June 9, 2020
Minutes from March 26th 2019
Spencer Valley Home and School Association
Agenda
Tuesday March 26, 2019 – 6:30pm
6:37pm
Cancelling next regularly scheduled meeting on May 14th as that is the same date as the Spring Concert; our next regular meeting will be June 18th
Review Previous Minutes (moved by Heather and seconded by Erin)
Review Agenda (moved by Heather and seconded by Erin)
Reschedule May meeting – May 14th? Same day as spring concert
Playground committee update

Have selected a structure from a company called Vant; waiting on the Board to tell us what they need from us to prove that we have money to pay for our share of the structure; can be installed as soon as we have the proof for Vant (and as soon as the ground thaws) – location has been selected etc.; Still need $9000 further to raise in order to pay for it; Fundraiser on May 3rd will be for this
Audrey stated that total invoice is for $23K so the board needs to see we have that $$ in hand already; we are under the impression that the final $9000 for installation is being paid for by the board; Audrey indicated that the board is only paying for the foundation and moving it to the new school; Audrey provided a quote from Vant which lays out the exact costs of various aspects of the equipment (although total installation is not separated out as a single line item)
Fundraiser on May 3rd at ShEd – all proceeds for playground; have approached various people to provide raffle prizes but no formal sponsors yet ($250 for Bronze, $500 for Silver, $750 for Gold and $1000 for Platinum); donations are eligible for tax receipts (H&S Association of Ontario will provide a charitable donation receipt but they keep 1% of the value of the donation); kids will be making decorations for the venue; a local band (The Weight) is playing and donating their time; there will be wine there as well from Flat Rock Winery; capacity is 200 and hope to raise $9000.

Review budget – cheque to be written to H & S Association

We have approx. $20 000 in the bank; had to spend money on Bake Off, prizes for Birthday card sales (after expenses we made $4276.24), etc.; don't know yet how much we made on chocolate fundraiser (have deposited $15 300 but have used $800+ for prizes and need to buy popsicles and pizza) and still need to get final money in from kids and then pay for chocolate); we also paid jointly with School Council for a retirement gift for Phyllis.

Vote on spending ideas from last meeting: See "take away" from budget updates – including Wonderland Trip subsidy for this year

Wish list from teachers; Audrey indicated that the ipads from Greensville are now 5 years old so need to be replaced; board is moving away from 1:1 for ipads
Fixing the kiln; we could fix it but we won't be able to move it to the new school
Pay for entry for trip volunteers and buses for trips
We have set aside $200 for Grad, Money for Choices Day (Lunch and Breakfast)
Kristin will be meeting with Sasha to determine what Parent Council provided for in the past
Wonderland Trip – Mrs. Sanders – some kids will be subsidized using the Rural School Funds and other things are subsidized using Canteen Money (Angel Fund)
Come to next meeting with ideas for fundraising and what we're going to spend our money on next year

Follow-up from bake off

Very successful – great enthusiasm and participation; tickets worked to some extent for control, but there were so many samples that; agreed that it should be done again next year including the recipe compilation
We will produce a Spencer Valley School Recipe book, but need to ensure recipes are personal recipes (not from the internet); we will include mention of the sponsors in the cookbook; also want kids to write thank you letters for prizes that they won – Pam, Anne and Erin will take care of the Recipe book

Fun Fair

Happening on May 24th
Kristin has sent out an email about who wants to be on the Fun Fair Committee; several people have responded with interest; Kristin wants to know in what ways people are able to help.
Consider changing Silent Auction format to a raffle format? More inclusive and kids can "participate" more.
Need to decide on venue…. If we want to have Bouncy Castle or Dunk Tank we cannot do it on school property; possibilities include Grisdale's, Webster's Falls, SVS – for now we will keep it at SVS due to time constraints
Some ideas – talent show, baking raffle, wine wall? (need to confirm if there are any limitations on this – if not wine, we can think of an alternative)
We need to use a different rental company vs. Checkers due to incident last year
Updated on Thursday, November 25, 2021.