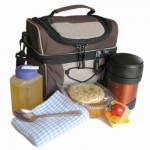 Students eat their lunches in the classrooms in the school. There are routines and expectations in place during our nutrition breaks. Students should:
Proceed directly to lunchroom or lunch recess upon dismissal;
Respect the rights of others in the room at all times;
Remain seated;
Raise their hand to ask permission to leave for the washroom;
Bring nutritious lunches in unbreakable containers (no glass);
Wait for the bell to put away their lunches; and
Tidy their area at the end of the nutrition break.
Updated on Wednesday, February 21, 2018.