Families, help us improve We Help – update: survey doesn't require account login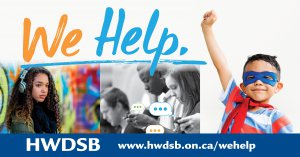 As you may know, HWDSB's mental well-being campaign We Help works to ensure that students, staff and families know how to find help – and how to offer help to those in need.
Staff and students have been promoting We Help this spring in a variety of ways, including through social media posts, media opportunities and posters in schools.
To improve our work on We Help, please take a moment to answer several simple questions in this online survey
Updated on Tuesday, May 29, 2018.