Important Notices:
Picture Retake/Grad Photo: 
Graduation photos will be done, along with retakes on March 25th. Our remote grade 4 class will also be invited between the hours of 8am- 10am, for pictures.
Flyers:
SAGE-Quest-Ryerson-Flyer-2022-23 SAGE-Strathcona-Flyer-2022
Families Worrying Less Together Info Night Flyer-April 5, 2022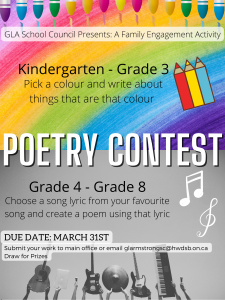 Emotion Coaching for Parents-Caregivers March April 2022 Flyer
Updated on Tuesday, April 19, 2022.