Foundation Faces
Our Foundation Faces series profiles Hamilton Foundation for Student Success' volunteers, donors, and partners. Be sure to follow our Facebook, Twitter and Instagram pages to be notified of future editions.
Scroll through this page to read all previous Foundation Faces profiles, or use the following links to jump to a particular entry. The bolded name represents our most recent profile.
---
Chair: Ian Brisbin – Partner, Martin & Hillyer Associates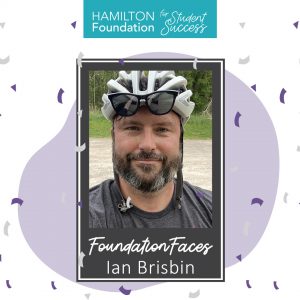 Ian is a lawyer with the Burlington firm of Martin, Hillyer Associates, having practiced personal injury and employment law for 20 years.
A proud graduate of Queen's University with degrees in history, politics and law, Ian is married with two young daughters (both of whom attend HWDSB schools) and a Bernese mountain dog named Willow.
Ian has long demonstrated a commitment to volunteerism, and not-for-profit governance. From chairing the Burlington Canada Day Committee in his youth, to chairing the boards of the Royal Botanical Gardens and Melrose United Church, and to his current passions, serving as the Campaign Chair for the Music Hall at New Vision United Church, and as a member of the Board of Directors of Supercrawl, and the Transition Team of 541 Eatery & Exchange, his volunteer commitments have spanned a wide array of interests.
A lover of the outdoors, and an endurance athlete having completed an Ironman triathlon and two Boston Marathons, Ian has also served as a member of the Board of Directors for both the Share the Road Cycling Coalition and Hamilton Bikeshare Inc. He is also a passionate home cook and a neophyte (read: "hack") guitarist.
What inspired you to get involved with HFSS?
"A request from our Executive Director Amy Leaming Cote!"
What do you hope your impact will be?
"Following in the steps of our predecessors to build a Foundation with a profile and reach as prominent and indispensable as its mission."
What do you enjoy the most about your involvement with HFSS?
"Knowing that I am parlaying some of the privilege I have inherited to help generate a more equitable learning environment for our students."
If you could have an extra hour of free time every day, how would you use it?
"Easy. On a bike."
When was the last time you did something for the first time?
"I've been learning guitar over the past year, and earlier this year, on a whim, I took an ice climbing course in Elora, and loved it! I like to remind myself to 'be brave enough to suck at something new.'"
You have your own late night talk show – who do you invite as your first guest?
"Dead? Oscar Wilde. Living? Kareem Abdul-Jabbar. Both are polarizing figures, with expansive, hard-won wisdom who ultimately used their gifts to make progressive social change."
If you could give a piece of advice to your younger self, what would it be?
"Choose the life you want to live, otherwise that choice will be made for you."
---
Vice Chair: Carla Ricci – Manager of Business Development and Partnership, Tandia Credit Union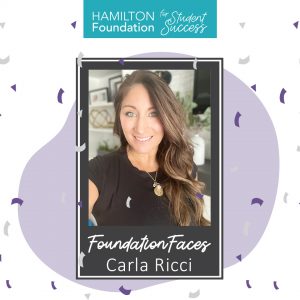 This is Carla Ricci's third year on the Hamilton Foundation for Student Success Board of Directors. She is currently serving as Vice Chair. In her day job, Carla is the Manager of Community Development with Tandia Financial Credit Union. Her role includes public relations, communications, and social media – all this while managing a busy home life with three children under the age of five. Twins Noah and Savannah are five and baby Gabriel was born in May of 2020. The Brock University alum shares this hectic life with her spouse, Joel.
"I have the best job in the world. Tandia aligns with partners like school boards to develop opportunities that embrace our local community. I am always passionate about ways we can help children in need," she says.
Carla was first involved with HFSS through Prom Project, an initiative that ensures students have formal wear for proms, graduations, and other special events. Carla is passionate about her role with the Foundation and hopes her impact will, "bring about real change for children, families, and our community."
It is a message she fosters with her own family, encouraging her children to find ways to help others by including them in charitable activities such as donating toys to families in need during the holiday season.
What gets you up in the morning?
Did we mention that Carla has three children under the age of five?
What is your favourite way to get in some exercise?
It is 100 per cent her Peloton bike – a high-tech stationary bike with online streaming classes. "That bike got me through 2020. The amazing Peloton community is what keeps me motivated to keep logging on and working out. I have spent 30 minutes on it every day since I bought it last July. I love it!"
If you had to eat just one meal for the rest of your life, what would it be?
"My Nonna's (grandmother) homemade pasta."
If you had to delete all but three apps from your phone, what would they be?
"Mmm…that's a tough one. I guess I would keep text message, my Peloton app, and my photos."
You have to sing karaoke, what song do you pick?
"'Radio Gaga' by Queen. If you don't know it, I encourage you to listen to it."
---
Secretary: Brian Humphrey – Founder, Climb Hamilton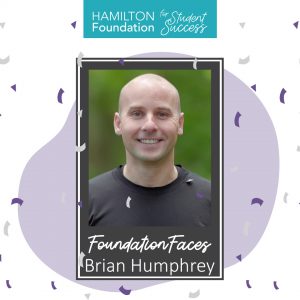 Brian Humphrey, Hamilton native and father of two, has been on the Hamilton Foundation for Student Success Board for two years. Currently, he serves as Secretary. With a lifelong dedication to health and fitness, Brian has pursued studies in Physical Fitness/Business Management at Cambrian College in Sudbury, as well as Health Sciences/Athletic Therapy at Sheridan College. A childhood ambition to be a firefighter led him to achieve his Firefighter Accreditation from Texas A&M in College Station, Texas.
Today, he is a self-employed entrepreneur who coaches employee groups in holistic health and lifestyle. "My main focus is corporations, working with groups from five to 50 on physical and mental health and well-being," he said.
Climb for Cancer, now known as Climb Hamilton, was started by Brian. He is understandably proud of the fact that over an 11-year period, it raised over $1 million for the Juravinski Hospital and its work in aspects of cancer care.
Brian was inspired to join HFSS after his involvement with the Specialist High Skills Major (SHSM) program. This program allows students to focus their learning on a specific economic sector while meeting the requirements needed to graduate from secondary school. In Brian's case, he coached the students in health and wellness.
He hopes that keeping health and well-being at the forefront for students will be his lasting impact with HFSS. "The decisions we make today will have a lasting impact and offer students better opportunities for the future."
If you could have any super-human power what would it be?
"That would be a toss-up between achieving peace on earth and have every person be the happiest, healthiest version possible of themselves."
When you were six years old, what did you want to be when you grew up?
"I am really inspired by my mother who was a nurse for 39 years. I wanted to be a firefighter to serve others, their health and well-being."
Would you rather travel back in time to meet your ancestors or would you rather go to the future to meet your descendants?
"I think back to my ancestors – I think they lived a simpler life."
What is your favourite meal to cook and why?
"I like to cook with anything from the earth if it's natural, nourishing and vibrant with good crunch and colour. Mostly fruits and vegetables."
Have you ever completed anything on your bucket list?
"Absolutely – I have run a marathon, gone skydiving and bungee jumping."
---
Becky Buck – Trustee Representative, HWDSB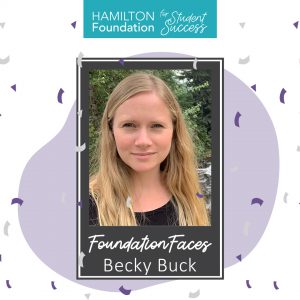 Studies at Redeemer University brought Becky Buck to Hamilton from her hometown of Keswick. After earning a degree in Psychology, with a minor in History, she says the city had grown on her. She decided to stay and put down roots. While this is her second year on the HFSS board, it is her first as a HWDSB Trustee representing Wards 8 and 14.
Apart from volunteering, a job at West Highland Baptist Church requires wearing many hats – creative design, promotion, website and social media. She manages all of this while raising a family of three with her husband James.
Before COVID-19 changed our ability to gather, Becky ran a weekly mom's group in addition to a children's program at her church. Becky was inspired to become involved with the Foundation because "giving is a true joy" for her. She's happy to help others and feels that the work of the Foundation is beneficial to many students in Hamilton.
Breaking down barriers in education is a key focus for Becky. "Barriers such as food insecurity, children heading off to school without breakfast, or the proper clothing so it's possible to participate in outdoor activities are just a couple of examples," she says, adding, "Trustees are working at becoming more aware of societal barriers as well."
If asked by a student why she is involved with HFSS, she says she would say that there is a lot of joy and happiness in helping others. "I would let them know that the Foundation provides practical aid for students and makes a positive difference in their lives. It addresses disadvantages and breaks down barriers to student learning and achievement."
If you were independently wealthy and did not have to work, what would you do with your time?
"There is no way I can narrow that list down. Travel would be at the top though and in those travels, I would pick up a teapot to remind me of places we have been."
If you had a time machine, would you go back in time or into the future?
"Definitely back in time – I love history and it would help us understand the present."
What was your favourite game to play as a child?
"Kick the can. I am the fourth in a family of eight kids, so it was a fun thing to do with siblings and all the other kids in the neighbourhood."
Are you a morning person or a night person?
"I'm a begrudging morning person – parenthood forced me into being a morning person. I used to be a real night owl."
Popcorn or M&Ms?
"M&Ms for sure!"
---
Brent Foreman – Partner, SimpsonWigle LLP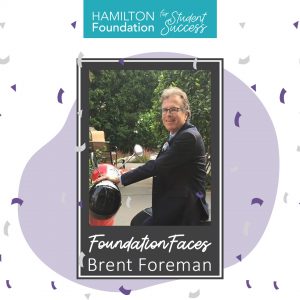 Brent Foreman brings a wealth of experience to his board position with HFSS. Since 1990, he has chaired multiple organizations from the Hamilton Community Foundation, the Hamilton Art Gallery and Mohawk College Foundation to YMCA Hamilton, Burlington, Brantford and the Hamilton Program for Schizophrenia. In addition, he has served on the board of YMCA Canada.
He has managed all of this while practising law as a partner at Simpson Wigle LLP. Brent, a Dundas native, was recruited to the board by Wayne Joudrie, who was the Executive Director of the Mohawk College Foundation. "My hope is that I can help make the board and staff maximize the Foundation's impact," he says, adding, "I support their mission. I am concerned about the connection between poverty and education. The Foundation supports students, allowing them to achieve greater success in education."
A McMaster grad with degrees in Political Science and French, Brent went on to earn a Law degree at the University of Toronto. He and his wife Sally have two children and three grandchildren.
When asked what motivates his extensive community involvement Brent replies, "Being a volunteer director at several organizations over the years has afforded me a psychic reward that I value very much. I have a real sense of being a part of our community and working with others to help it move forward positively and inclusively. I have had the opportunity to add my small part to make Hamilton a caring and vibrant community," he says, adding, "Had I not had the privilege of volunteering for the many agencies in which I have been involved, I would have missed out on seeing much good work accomplished and having met so many interesting people along the way."
If you were famous, what would you be famous for?
"Brokering peace in the Middle East."
What is your favourite mode of transportation and why?
"I like my Vespa – it's such a free feeling."
If you could choose any two famous people in the world to have dinner with, who would they be?
"Barack Obama and Pierre Trudeau."
What is the most embarrassing fashion trend you used to rock?
"When I see those pictures where I wore really big glasses or the big suits with the big shoulders."
If you could live anywhere in the world for a year, where would it be and why?
"It would be France – for its language, food, history and beauty."
---
Christine Nicolaides – Principal, Sir Winston Churchill Secondary School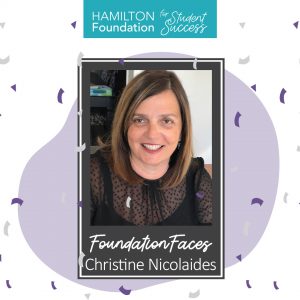 You can look for a more enthusiastic educator than Christine Nicolaides, but you will be hard-pressed to find one. She loves being with her students and it shines through in all of her undertakings.
When she was Vice-Principal at Delta Secondary School, Christine got involved with Prom Project – a Foundation initiative supporting students of HWDSB and beyond – designed to ensure students have formal wear for proms, graduation and other special events. The goal is to provide clothing and accessories to give students confidence and pride in their appearance for important occasions in their lives. She was so impressed with the project that the natural next step was to get involved with HFSS as a Board member.
Christine hopes her legacy with the Board will be that she was able to help students, show kindness, lift up and celebrate them. "I want to lay a foundation for them that creates equal opportunity, removes barriers and encourages them to contribute to their community. I want students to know that we are proud of their accomplishments."
A McMaster grad, Christine and her husband Gabriel, a Chemical Engineer, are parents to two daughters. One followed her mother into teaching, and the other is a PhD candidate at the University of Guelph.
A native of Smithville, Christine is currently Principal at Sir Winston Churchill Secondary School. Her Greek heritage led her to be an active volunteer and leader within the Greek community in Niagara.
One of her favourite sayings deserves to be shared:  "How beautiful a day can be when kindness touches it."
What is the best book you have ever read?
"I like every book I read, but the most recent one was From the Ashes: My Story of Being Metis, Homeless and Finding My Way by Jesse Thistle. And I really enjoyed Becoming by Michelle Obama. As a kid, I was really into the 'Nancy Drew' series."
You can have an unlimited supply of one thing for the rest of your life, what would it be?
"Easy – that would be chocolate!"
If you could delete one thing from your daily routine, what would it be and why?
"Driving. I can't avoid it because we live in the country, which is great, but it does mean you have to drive everywhere."
What is your favourite memory with your best friend? (Your best friend can be an animal!)
"I grew up in the country and my best friend, Rose, lived next door. We would play silly games like sitting on the swings and count all the red cars that drove by."
What is the best dish you can cook?
"I don't really cook a lot, but my daughters make phenomenal food like fresh bread, pasta, Caesar salad and chicken cutlets."
---
Heather Beale – Organizational and Professional Development Assistant, Mohawk College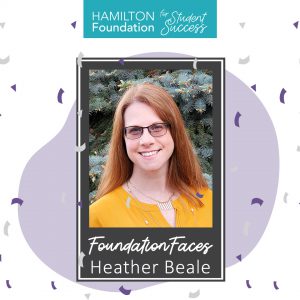 When Heather Beale arrived in Hamilton in the late 1990s to attend Mohawk College, it was Orangeville's loss (her hometown), and our win. The city gained an ardent community supporter with a volunteer CV that ranges from Vice-Chair of the Hamilton Philharmonic Orchestra and Climb for Cancer boards to Doors Open Hamilton and Tourism Hamilton. In addition, she has served on organizing committees for the Vanier Cup, the Juno Awards, Canadian Country Music Awards, Hamilton's Conservatory for the Arts and the Pan-Am Games.
Heather worked at Orlick Industries – a supplier to the automotive industry – for 13 years as the Training and Communications Coordinator in the Human Resources department. In May of this year, she was hired by Mohawk College for the position of Organizational and Professional Development Assistant. Her spouse, Mike Beale, is a child and youth worker.
A life-long learner, Heather's first Mohawk diploma is in Broadcasting Radio and Communications. Other Mohawk studies include Adult Teaching and Event Planning certificates. She now has her sights set on pursuing a diploma in Business Administration and Human Resources and eventually a degree in Sociology at McMaster University.
Heather joined Hamilton Foundation for Student Success in February 2020 – just in time to meet the other Board members before video calls replaced in-person gatherings. She was inspired to put her name forward by Brian Humphrey, a friend who is also on the Board.
Heather hopes to use her background in event planning to help organize the annual Showcase of heARTS fundraiser. She hopes her impact on the Board will be that she has been a successful ambassador and advocate for the work of HFSS.
What is your favourite tradition or holiday?
"That would be Christmas. Each year, my parents gave my older brother and I an ornament. When we decorate the tree, it brings back so many nice memories."
Do you think you could live without your smart phone (or other technology item) for 24 hours?
"Yes – no problem there. We often camp in the backcountry in Algonquin Park and really don't mind being without our phones for a period of time."
If you could have someone follow you around all the time, like a personal assistant, what would you have them do?
"I would definitely have them prepare all of my meals and help with the shopping. Also, help me say no so I don't over-commit my time."
What is your favourite place of all the places you have travelled?
"My favourite travels have been to Alberta and British Columbia. Their beauty is breathtaking and when you're hiking there, it reminds you of what your place is in the world – you're so small by comparison."
If you could donate a million dollars to one charity, what cause would you choose? 
"Nature Conservancy Canada, but I would have difficulty not saving room for so many others – the Hamilton Philharmonic Orchestra and HFSS, as well as the MS Society of Canada, Canadian Cancer Society, An Instrument for Every Child, Bruce Trail Conservancy, Heart & Stroke Foundation, Hamilton Food Share – all of which receive planned contributions from us when we can because they touch our lives."
---
Nair Lacruz – Associate Dean of Creative Industries, Mohawk College
Nair Lacruz is proud graduate of HWDSB. "I had so many great teachers and administrators who supported me as a student," she says, adding, "being a member of the HFSS Board is a great opportunity to give back to the community."
Fellow board member Brian Humphrey encouraged her to apply. "I researched it and I liked their mission and values. I was honoured to be chosen."
An employee of Mohawk College for 19 years, Nair is currently Associate Dean of Creative Industries. "I am passionate about post-secondary education. Mohawk is all about having impact on community and creating great partnerships within it. I am committed to the mission and vision of HFSS to break down barriers."
Nair knows something about barriers. Her parents emigrated from Spain and while she is Hamilton-born, she started elementary school speaking only Spanish – the language spoken at home. Day one of kindergarten was her first day learning English.
Her own post-secondary education includes a diploma in Applied Photography from Sheridan College, a BA (Honours) from York University and a Master in Education from the University of Ontario Institute of Technology in Oshawa. She and her husband Lance Ruest, a Mechanical Designer, have been together for 25 years and they have a 11-year-old son.
As a Board member, she says, "I want to be an active participant and contribute meaningfully to the conversation. This group is open to conversation and change. They are very welcoming and inspiring."
If you could learn one new personal skill, what would it be?
"I have always wanted to do pottery – and I have no excuse because Mohawk College offers amazing ceramics courses."
What is your favourite time of day and why?
"In the evening, after dinner, when everything is cleaned up and it's family time."
What is your laptop wallpaper?
"It is a photo of my dad's hometown in Teruel, Spain. My favourite place to visit."
If you could write a book that was guaranteed to be a bestseller, what would you write?
"I would love to write a science fiction novel. Then maybe it would be turned into a movie!"
Would you rather be a superhero or the world's best chef?
"I would be the world's best chef, but by night, I would be a superhero because every superhero needs an alter ego and a disguise."