HWDSB believes that creating a Downtown Community Hub on the Sir John A. Macdonald site will benefit students, their families and the broader community. Our vision for this Hub is: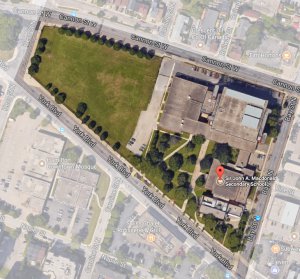 A central access point for a range of community identified programs and services
Accessible programs and services that will promote the health and well-being of students and families
Flexible programming that will meet the needs of the community
Build synergies and collaboration among service providers
HWDSB believes that cooperative and collaborative relationships between school boards and community partners are part of the foundation for a strong, vibrant and sustainable publicly funded education system.
What is a community hub?
A community hub is one or more buildings at one location that is a central access point for a range of community identified programs and services. Community hubs respond to the unique needs of a community and are typically located in neighbourhood settings. Community hubs are spaces accessible to all residents of a neighbourhood.
Why is a hub beneficial on the Sir John A. Macdonald site?
A community hub in this neighbourhood would make it easier for area and neighbouring residents to access programs, services and shared space within walking distance of their homes. This provides an opportunity to enhance community wellness and prosperity within the neighbourhoods.
What is HWDSB's role?
HWDSB owns the land and has a vested interest in supporting the development of a hub and ensuring it meets the community's needs.
Who will decide what services will go in a hub?
A community hub would respond to identified gaps in supports and services. It is not yet known what exact services would be included in a hub, as that will partly be up to potential partners. The services included in the hub would be partly determined by needs identified by the community through community consultation. In the fall, all community members will have the opportunity to participate and have a say in the kinds of programs, services, and spaces desired.
In November 2016, Hamilton-Wentworth District School Board (HWDSB), began a review of nine elementary schools in the city's west end, called the West Hamilton City Accommodation Review. The schools reviewed were, Bennetto, Cathy Wever, Central, Dr. Davey, Earl Kitchener, Hess, Queen Victoria, Ryerson, and Strathcona. The review addressed the future needs of the students in these neighbourhoods.
The review was based on our commitment to community engagement. When considering school consolidation or closure, we reach out to parents and the public for their input. This is part of our ongoing vow to renew school facilities and work directly with our community to shape education for future generations of students.
The review finished on Monday, June 5, 2017, when Trustees approved the West Hamilton City – Pupil Accommodation Review – Final Report, which stated:
That HWDSB seek partnerships to redevelop the Sir John A. Macdonald site as a Community Hub centred around a new JK‐8 elementary school.
That Hess and Strathcona close pending Ministry of Education funding for HWDSB's portion of the Community Hub project.
That a Community Hub proposal be presented to the Board of Trustees for approval no later than December 2017.
That all schools remain open failing the creation of a Community Hub on the SJAM site.
That Bennetto introduce a French Immersion program (grade 1‐8) in September 2018, commencing with grades 1‐3.
That HWDSB communicate with the City of Hamilton and all preferred agents identified in Ontario Regulation 444/98 in a timely and transparent manner to maximize the reuse of school property for community benefit.
Updated on Tuesday, December 21, 2021.