Return Borrowed iPad and Charger on Mon. Feb. 8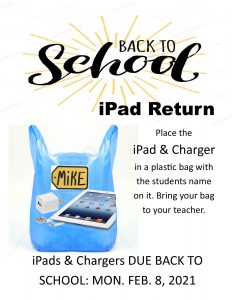 Hello Parents:
Now that schools are opened for face to face learning, we are asking all families that borrowed a school iPad and Charger to return it to school on Monday February 8, 2021. Please place the iPad and the Charger in a plastic bag with your child's first and last name written clearly on the bag. This plastic bag can be returned to their teachers on Monday.
If your child has switched from face to face to Remote learning and you have a borrowed iPad, we will arrange a time for you to drop if off at the school.
Thank you
Updated on Friday, February 05, 2021.