Congratulations on your decision to become a Canadian citizen!
Learn the material needed to help you pass the test.
 "…By the end of the course, I was confident going in to take my exam. I will definitely recommend this program to my friends." Raj
Anyone who wants to pass the test needs to study the Discover Canada book and to attend a Canadian Citizenship Course.  I would recommend this training program to everyone who wants to pass the test successfully. I can't thank you enough for your amazing training program…" Dusan
Our Program
12-week intensive online preparation course focusing on the knowledge and language skills for the Canadian Citizenship Test.
The topics in this program include: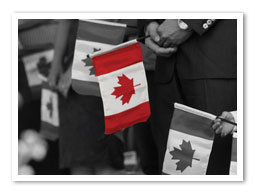 Canada's economy
Canada's justice system
The Rights and Responsibilities of citizenship
Government, Elections and Voting procedures
Facts about Canada, its history, geography and symbols
Study questions for the Canadian citizenship test
Learn techniques to study and organize information effectively
Tuesday/Thursday Online Classes
Please call for upcoming session dates and details: 905-525-8833
Registration
Email us at adultesl@hwdsb.on.ca for more information about registration and course schedules.
Eligibility
Must be 18 years or older

CLB 4 or higher in listening, speaking, reading and writing required
Resources
Find out more information about the requirements for becoming a Canadian citizen.

Updated on Wednesday, August 25, 2021.