The Care for Newcomer Children (CNC) program provides a stimulating and safe environment for children to grow and learn while their parents participate in the Language Instruction for Newcomers to Canada (LINC) program.

Child care available to LINC students
Eligibility (age of children)
Caregiver-to-child ratios
One Caregiver to five children aged 19 months to 35 months old
One Caregiver to eight children aged 36 months to 5 years old
Our child care staff are all registered Early Childhood Educators
Schedule
Care for Newcomer Children is full-time (9:00 am to 2:00 pm) and available at Hill Park and Parkway Learning Centres
Classroom setting
Our classrooms help children feel safe and comfortable while they enjoy many activities.
Classrooms are equipped with toys and materials that encourage learning through play and help the children prepare for kindergarten.
Curriculum
The program encourages children to develop confidence, introduces them to new friends and is LOTS OF FUN!!
The children learn English through play, song, story reading.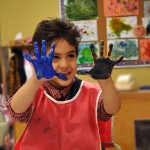 While parents participate in the LINC program, your child will participate in high quality programs including:
Kindergarten Readiness
Arts and Crafts
Circle Time (songs, stories, language)
Gross Motor Play (ball toss and body movement)
Sensory Play (water, sand, play dough, etc.)
Imaginative Play with toys
Registration
Email: adultesl@hwdsb.on.ca
Fees
NO FEE for the Care for Newcomer Children program for eligible learners.
Locations
Hill Park Learning Centre: 465 East 16th Street (905) 561-2190 ext. 4774 (Free parking)
Parkway Learning Centre: 140 Centennial Parkway North (905) 573-0941 (Free parking)
Updated on Tuesday, August 17, 2021.