Volunteer as a Roots of Empathy Instructor for 2022-23 School Year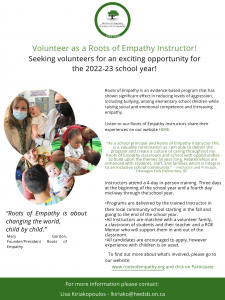 Roots of Empathy is an evidence-based program that has shown significant effect in reducing levels of aggression, including bullying, among elementary school children while raising social and emotional competence and increasing empathy.
Are you interested in being a Roots of Empathy Instructor? The role is ideal for retired educators or existing school volunteers looking for a new opportunity. All candidates are encouraged to apply, however, experience with children is an asset.
Instructors attend a four-day in-person training, with three days at the beginning of the school year and a fourth day midway through the school year.
Programs are delivered by the trained Instructor in their local community school starting in the fall and going to the end of the school year.
All Instructors are matched with a volunteer family, a classroom of students and their teacher and a Roots of Empathy Mentor who will support them in and out of the classroom.
Find out more about what is involved and listen to Instructors share their experiences on the Roots of Empathy website.
For more information and to learn how to get involved at HWDSB, please contact Lisa Kiriakopoulos at lkiriako@hwdsb.on.ca.
PDF flyer: Roots of Empathy HWDSB Instructor
Are you a proud parent with a new baby? Will your baby be between two and four months old in October? If so, you and your baby could be a Roots of Empathy Family! See our previous post to learn more.
Updated on Thursday, July 21, 2022.