Three Reasons Why You Should Apply to Focus on Youth
Focus on Youth (FOY) is a summer work opportunity for HWDSB students looking to gain valuable life and leadership skills through placements with community partners and HWDSB summer learning programs. In case you're on the fence of whether or not you should apply to #FOY2021, we've created a list of three reasons why we think you should!
FOY allows you to tap into your own interests and apply them in your place of work, while also building meaningful relationships with peers, program staff and employers!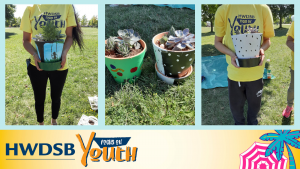 In past years, students interested in literacy, numeracy, sports, recreation, and the arts have had opportunities to work with HWDSB and community learning camps to help develop and implement summer programming, or work at arts and cultural festivals setting up equipment and assisting with events.
Students interested in helping the community in other ways have worked with not-for-profit organizations to provide support in shops and food banks, and others got to know our senior population by writing them letters and talking to them on the phone to help them feel connected during the height of the pandemic. They even made personal planters for them and brought them to their place of residence to brighten their day!
FOY student leaders get to take part in our amazing one-week leadership training program!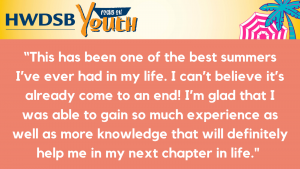 FOY is not just about summer employment, it's about connecting, learning and growing. One of the ways we do this is by hosting a weeklong, leadership training session before students get to work. During this time, students have the chance to learn about goal setting, positive self-image, overcoming challenges and more with amazing guest speakers. Last year we had Olympian Gold Medalist for the Canadian Women's Hockey Team, Sami Jo Small, talk about the important of being yourself, as well as Sam Demma, Chris Vollum and more! We also provide students with health and safety training, including COVID-19 training and online privacy/etiquette, since we will have a mix of virtual and in-person placements this year.
FOY cares about their student employees and their mental health and well-being.
#FOY2021 will have a big focus on mental health awareness, mindfulness, and training to help our youth break through the barriers and stigma surrounding mental health. We will work with youth to help them become Youth Champions for the Youth Mental Health and Addictions Champion (YMHAC) program by providing them with the training and tools they will need to become mental health advocates in their schools when they return in the fall.
If you're not convinced yet that you should apply to #FOY2021, maybe this will help!
HOW TO APPLY: Send your completed resume/cover letter to focusonyouth@hwdsb.on.ca by June 16, 2021 at 4 p.m.
Visit our Focus on Youth webpage for more information and follow us on Instagram @focusonyouth_hwdsb for exciting #FOY2021 updates throughout the summer!
Be sure to check out our '20 Tips for Writing Resumes and Cover Letters' blog post!
Updated on Friday, June 04, 2021.