The Expansion of eLearning at HWDSB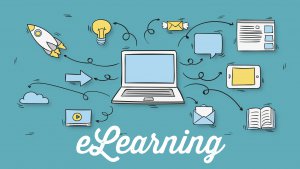 Over the past decade, Hamilton-Wentworth District School Board has become a leader in the province in developing and offering online learning opportunities to students.
HWDSB's eLearning program has grown to accommodate over 1,500 students in the 2017-2018 school year. These students have chosen this method of learning to receive credits towards their Ontario Secondary School Diploma.
The principal of the eLearning program, Kevin Graham, has found that students often choose to take online courses because it allows for flexibility it offers in learning hours.
Specifically, he says "We also have students who are working jobs that require them to have some flexibility in their day so these students work on their eLearning course over their lunch or at night when they can focus on their studies".
Through an agreement HWDSB has with other school boards across the province, students can register for over 100 different courses with ease. This agreement allows HWDSB students to log in to their HUB accounts and access their courses, even if it is delivered by another school board.
"We find that this system of sharing students across the province allows our students to be able to access courses that we may not be able to offer in a particular semester which really helps them in their educational pathway." Says Jeff Allison, eLearning and Technology Enabled Learning and Teaching Contact.
Within an eLearning environment, course material is delivered online as it offers a space for students to achieve their high school credits that is in every way equivalent to the traditional classroom setting.
eLearning in HWDSB is all about giving students the opportunity and education they deserve to prepare them best for post-secondary pathways.
Students who are interested in taking an eLearning credit are encouraged to select the eLearning credit type of course when making their course selections. Alternatively, students can ask their Guidance Counsellor to register them for an eLearning course.
Updated on Wednesday, December 05, 2018.