Team Mohawk tops Team McMaster for bragging rights at HWDSB girls basketball all-star classic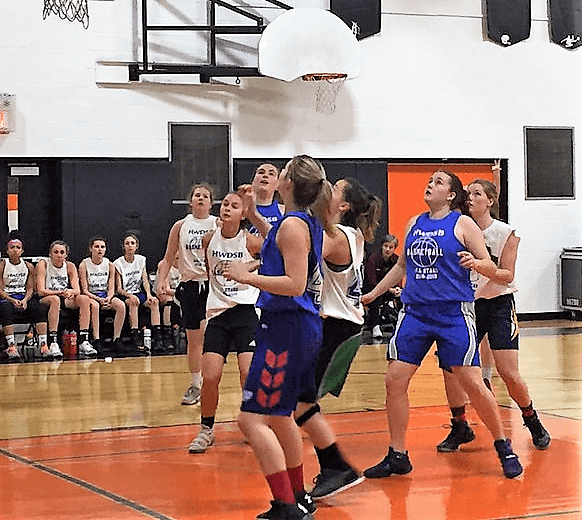 HAMILTON (December 7, 2017) – For the third straight season, Team Mohawk topped Team McMaster at the HWDSB girls basketball all-star classic game earning a 58-49 win at Glendale Secondary School on Thursday night (Dec 6).
Saltfleet's Quinn Hardy was the game's top scorer with 13 points to lead Team Mohawk while Amy Stinson of Westdale and Brittany O'Rourke of Sir Winston Churchill each chipped in nine points for the winning group.
For the McMaster side, Isabella Bourgeois of Sherwood and Taylor Marof of Westdale posted eight points each.  Claire Sutherland of Westdale had six points in the loss.
Team McMaster held a small three point lead after the first quarter of play (16-13), but the Team Mohawk squad was able to take earn the advantage at the half going up 28-27 and clung to a 43-39 lead heading into the final frame.  They were able to separate themselves in the fourth to finish 58-49.
Amy Stinson from Westdale claimed player of the game honours for Team Mohawk while Amber Hewitt earned the same award for Team McMaster.  This is the second time in as many years Stinson has earned player of the game honours in the All-Star game format having represented Team McMaster last year.
Prior to the game a three point shooting contest was held with Saltfleet's Sofia Djurcic taking the crown dropping 10 three pointers.
The game featured 30 of the city's top student athlete basketball players from the Hamilton public school board.  It also was the second year the event was staged celebrating & highlighting girls basketball in Hamilton.
This year's game was the third installment of the which saw the school board team up with Mohawk College and McMaster University in helping present the game.  Both post-secondary institutions provided varsity student-athletes to help coach the games with their head coaches on hand to present awards post game.
Team Rosters
Team McMaster University
Glendale SS: Belma Boskovic; Guido de Bres CHS: Kaley Bork; Orchard Park SS: Mikayla McDonald; Saltfleet DHS: Sofia Djurcic, Alexa Madjercic; Sherwood SS: Amber Hewitt, Isabella Bourgeois, Abby Oates; Sir Allan MacNab SS: Kyra Guzylar-Messam; Sir Winston Churchill SS: Molena Pok; Waterdown DHS: Morgan Doxey; Westdale SS: Taylor Marof, Jordan Denkers, Claire Sutherland; Westmount SS: Heather Gaunt.
Coaches: Erin Burns and Christina Buttenhan
Team Mohawk College
Glendale SS: Orhidea Currie; Guido de Bres CHS: Natalie Gelms; Nora Frances Henderson SS: Samantha Young; Orchard Park SS: Savannah Wolaniuk; Saltfleet DHS: Sam Tougher, Quinn Hardy; Sherwood SS: Beth Evnik, Cloe Wilson; Sir Allan MacNab SS: Alana Kirkland; Sir Winston Churchill SS: Brittany O'Rourke; Westdale SS: Peyton Marof, Heidi Nelson, Amy Stinson; Westmount SS: Paige Hamilton, Zoe Santi.
Coaches: Sam Pocrnic, Emilee Champigny,  Hannah Zinkewich and Kassandra Willard
For photos from the event visit: https://www.flickr.com/photos/hwdsbathletics/
Stay Connected with HWDSB Athletics
For schedules, results and news visit: https://www.hwdsb.on.ca/athletics or follow us on Twitter @HWDSB_athletics​
Updated on Friday, December 07, 2018.