Summer 2023 Registration and Office Hours
As summer arrives, we want to ensure a welcoming and smooth transition for families hoping to register new students for September 2023.
Families are encouraged to click here to use the online registration form.
Walk-ins will be referred to the online registration or the scheduled in-person registration dates. Assistance in completing the form or requests for accommodations is available if required.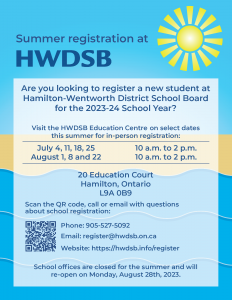 Registration questions can be directed to register@hwdsb.on.ca or 905-527-5092.
In-Person Dates for Summer Registration
Are you looking to register a new student at HWDSB for the 2023-24 school year? Visit the HWDSB Education Centre on select dates this summer for in-person registration:
July, 4, 11, 18, 25 – 10 a.m. to 2 p.m.
August 1, 8 and 22 – 10 a.m to 2 p.m.
20 Education Court
Hamilton, ON
L9A 0B9
Summer Office Hours
Elementary school offices are closed for the summer. They will reopen on Monday, August 28. We apologize that we are unable to respond to any messages until school offices reopen.
Secondary school offices are open, and families can contact school offices for summer hours.
Welcome Centre staff can be reached throughout the summer at 905-521-2554. Staff will book assessments beginning on August 14.
If you have any questions, need help registering your child for school, or need assistance over the summer, please call the HWDSB Education Centre at 905-527-5092 or email:
The HWDSB Education Centre remains open from 8:30 a.m. to 3:30 p.m. in the summer months.
2023-24 School Year Start-Up
On Monday, August 28, a School Messenger notification will be emailed to families to inform them that Parent Portal is officially open for the start of the new school year.
At that time, families can view their child's classroom teacher for elementary and student timetables for secondary. The date of this communication is in alignment when Office Administrators are in schools to support questions.
Kindergarten families will receive an email once their Parent Portal account is created. Families will also receive information about when their child will attend their first day of Kindergarten.
Students with disabilities, along with their families, will have the opportunity to transition into their new school before the start of the 2023-24 school year. Families with students accessing additional supports are encouraged to contact their school during the week of August 28 to arrange a brief visit to their school and classroom.
Click here to learn more about Parent Portal and other digital tools for families.
We hope you have a safe and happy summer, and look forward to seeing you in the new school year!
Updated on Thursday, July 13, 2023.