Students gather for coding contest
Students in grades 10 to 12 recently came together to compete in round one of the Educational Computing Organization of Ontario (ECOO) Programming Contest.
Math and computer science students from Ancaster, Orchard Park, Sherwood, Westdale and Westmount formed 11 teams of four, to fight for their spot in the ECOO regional contest.
In previous years, ECOO's efforts to grow a female coding presence encouraged a minimum of one team of four girls. The idea behind this was to demonstrate female strength in programming.
This year, ECOO encouraged teams to collaborate based on skill set rather than gender.
Four teams are able to advance to the regional contest, allowing an additional team if there is an all-girls team placed in the top five.
The board-wide contest consisted of four lengthy programming questions, and decisions were made on a point-basis.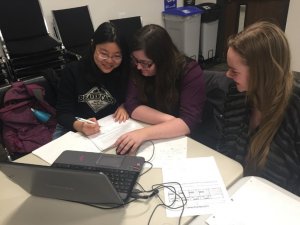 The first-place team, "\n" from Westmount, scored an impressive 323 points. Members included Fatima Noor, Muhammad Abdullah, Daniel Song, and Andean Medjedovic.
Five HWDSB teams advance the regional contest on April 29 at York University. Winners of the regional contest will advance to the final contest on May 13.
Updated on Tuesday, April 04, 2017.