Share Your Thoughts on HWDSB's Draft Bullying Prevention and Intervention Policy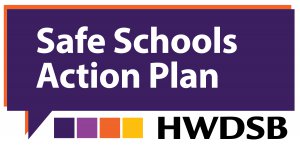 To address bullying, HWDSB is committed to responding to the voices of students, parents/guardians/caregivers, staff and community as shared within the Safe Schools: Bullying Prevention and Intervention Review Panel's final report.
As HWDSB enters the final stage of consultation on the DRAFT Bullying Prevention and Intervention Policy, the Policy Working Group wants to express its deep gratitude to everyone who has taken the time to share their ideas, experiences, and questions. The voices of students, families, and community members have helped the policy get to where it is now.
Consultation on the draft policy began in spring 2022. In Phase 1 of the consultations, the working group focused efforts on hearing from students who have experienced bullying, particularly those who self-identify as Indigenous, Black, Racialized, Two Spirit and LGBTQIA+ and students with disabilities. Key themes and recommendations for revisions to the policy were shared back with student participants as well as the Policy Working Group. A summary report for Phase 1 Consultations was recently shared on the Safe Schools Action Plan webpage.
For Phase 2 of the consultation, we are inviting all members of the HWDSB community to review the updated DRAFT Bullying Prevention and Intervention Policy and confirm that it is ready to move to the approval stage. See below for a link to the anonymous short survey, which closes on December 12, 2022.
The Policy Working Group will review all feedback received from the entire consultation process and revise the draft policy before it is presented to the trustees for approval. Once the policy is approved by Trustees, HWDSB will continue to need your help as we create the procedures to put it into action.
Quick Links:
More information: Safe Schools Action Plan webpage
Survey link: ca.research.net/r/SafeSchools
Draft policy: DRAFT Bullying Prevention and Intervention Policy
Summary report: Phase 1 Consultations Summary Report
Updated on Friday, December 02, 2022.