Safe Schools: Bullying Prevention and Intervention Review Panel Presents Interim Report to HWDSB
Media Release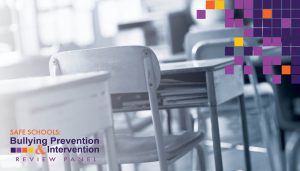 For Immediate Release
Hamilton, Ontario – May 25, 2020: The Safe Schools: Bullying Prevention and Intervention Review Panel presented an interim report regarding its findings from public consultations at HWDSB's virtual board meeting on the evening of Monday, May 25, 2020.
The report includes a summary of the themes identified by the Review Panel in regard to the four focus areas, bullying prevention, intervention, reporting, and responding.
To compile the information in this report, the Review Panel engaged and consulted with existing HWDSB stakeholder structures, as well as stakeholder voices that are less likely heard, through five general sessions and ten group specific public sessions, scheduled through February and March of 2020.
At these sessions, participants were asked what they would "Stop, Start and Continue" in each focus area, while table facilitators supported safe and insightful conversations. The Consultant Firm, Kojo Institute, analyzed the notes and the Safe Schools Review Panel members will use this information to form recommendations and feedback for HWDSB in the final report.
"HWDSB remains dedicated during this time to maintaining our students' safety," said Alex Johnstone, Chair of the Board at HWDSB. "The panel has worked hard to identify key themes, which are a result of community consultations. We take seriously the key themes in the interim report, and the recommendations and feedback that will be in the subsequent final report. We continue to move forward with the necessary changes to build safe learning environments for all of our students."
The interim report can be found on the Safe Schools Review Panel website at https://www.hwdsb.on.ca/about/safe-schools-review-panel/.
"We have seen through the public consultations that there are a range of issues many students face daily," said Dr. Jean Clinton, Safe Schools Review Panel Member. "We have also recognized that many of these stories end with similar calls to action, which could lead to collaborative solutions that further contribute to safety, equity and social justice in schools. These calls to action are reflected in our interim report and we know HWDSB is listening and will work hard to create positive change for our youths."
Due to the COVID-19 pandemic, the remaining community sessions, Racialized Community and General Review Panel, were postponed in addition to the multiple staff and student sessions as well as an online survey. Once closures are lifted, these sessions will be held at a later date and will be considered in the final report's findings to ensure that it is reflective of all voices in the HWDSB community. Online surveys for students, parents and staff to complete are being developed and will take place in the fall.
The final report from the Review Panel will be submitted to the Director of Education and shared with the Board of Trustees no later than December 16, 2020.
Further updates will be provided to the community as the Review Panel's work continues into the fall months.
– 30 –
Media Contact:
Shawn McKillop, APR
Manager, Communications and Community Engagement
905.515.6227 | smckillo@hwdsb.on.ca
Updated on Monday, May 25, 2020.