Reminders before return to in-person learning on Monday, January 17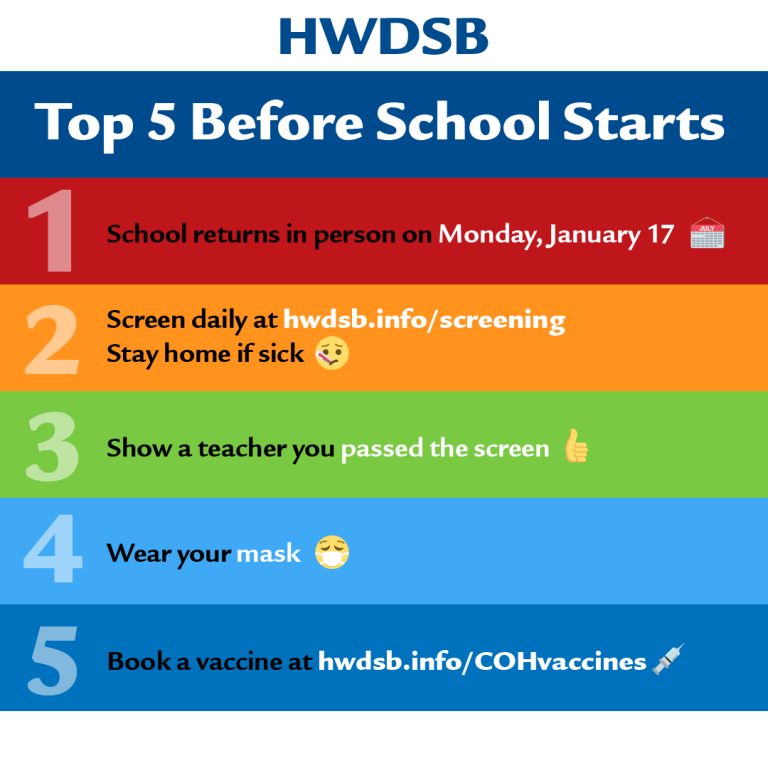 Before the return to in-person learning on Monday, January 17, we want to remind you about some important health measures.
Daily Screening
All students, with family help, if necessary, must complete the daily screening for COVID-19 symptoms. Students must stay home if sick to reduce the spread of the virus.
Please screen daily for each child using the updated COVID-19 School and Child Care Screening found at hwdsb.info/screening
The screening asks if a student has experienced symptoms in the last five days. This is important due to the time away from school.
The screening is also updated with symptoms typically seen with Omicron, as well as with updated guidance on testing and isolation periods.
Hamilton Public Health Services has produced two important decision guides to help families understand what happens for a Symptomatic Child At Home or a Symptomatic Child at School or Child Care. These are available on our COVID-19 web page at hwdsb.info/COVID
Please also consider if your child has travelled. If a child/student is not fully vaccinated but is exempt from federal quarantine because they travelled with a fully vaccinated companion, they must not go to school/childcare for 14 days.
Confirm Screening
After screening, students in kindergarten to Grade 12 must confirm they have passed the screening, with family help as required.
If a student brings a device to school, they can show an educator the green check mark at the end of the screening that confirms a pass. If a family completes the screen at home, they can sign the monthly attestation calendar available on our COVID-19 web page. Families may use a method explained by their school.
Masks
Masks are still required for all HWDSB students, with reasonable exemptions for students who are unable to wear masks. You can find the mask exception form in the Parent Portal.
Please watch for inclement weather. If schools close due to inclement weather, all in-person and remote learning is cancelled that day.
We look forward to welcoming students back on Monday, January 17.
Updated on Friday, January 14, 2022.