Registration closes May 31 for these Continuing Education programs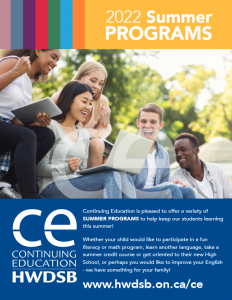 On behalf of Continuing Education, we want to share a reminder that registration will close Tuesday, May 31 at 11:59 p.m. for the following programs.
Learn more about summer Continuing Education programs here.
Reach Ahead CREDIT program
Current Grade 8 students transitioning to Grade 9 can earn a half credit or a full credit before starting high school. We are offering Civics and Careers courses to all Grade 8 students who will transition to Grade 9 in the fall. These open level half-credit courses can be taken individually (9 days) or in combination (18 days). This is the only credit program available to students reaching ahead before Grade 9. These courses will be offered online.
Learn more at www.hwdsb.on.ca/cce/reach-ahead/
---
Summer Literacy and Numeracy Skill Builder Programs
The non-credit programs are available to students currently in grades 6 and 7 (elementary) and grades 8 to 12 (secondary). The purpose of these programs is to enrich and develop Literacy and Numeracy skills. In 2022, we are excited to offer a variety of programs, some in-person and some online, including:
Skill Builder Literacy Programs (fully online)
Skill Builder Math Programs (fully online)
Fractions Program (fully online)
Art & Literacy (both in-person and online options available)
Coding & Literacy (or Numeracy) (fully online)
Basketball and Literacy (in-person)
Soccer and Literacy (in-person)
Online programs include a two-hour real time/synchronous online lesson each day and fun activities for the students to complete beyond the lesson time. In-person programs are three hours long.
Learn more at www.hwdsb.on.ca/cce/summer/summer-non-credit/
---
Summer ESL Literacy Program
We encourage English language Learners – who are at level 3/CO or below –  in grades 6-12 to participate in this program. These courses run Monday to Friday from July 5 to 28, 2022.
In-person programs are being offered at Bernie Custis, Nora Henderson and Sir Allan MacNab secondary schools. Registration for this program is completed through English as a Second Language (ESL) teaching staff and school administrators. Please contact your student's ESL teacher to register!
For more information, visit www.hwdsb.on.ca/cce/esl-literacy/
Updated on Monday, May 30, 2022.