Register for GROW STEM Space Conference 2021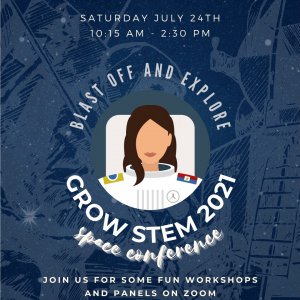 Following a successful virtual conference in November 2020, the GROW STEM (Girls Rising to Opportunities Within Science, Technology, Engineering, and Math) team is returning for another event. This time around, the special theme will be outer space!
Ancaster High graduates Michelle Luu and Leanne Tran were inspired to launch GROW STEM after noticing a lack of diversity in their Introduction to Computer Science course. You can learn more about the initiative in our December 2020 story.
About GROW STEM Space Conference 2021
Register here: GROW STEM Space Conference 2021
GROW STEM is hosting its first-ever Space Conference on Saturday, July 24 from 10:15 a.m. – 2:30 p.m. Registration for this event is free and open to any female-identifying and non-binary youth between the ages of 13-18.
Participants will have the opportunity to participate in workshops, listen to presentations, and engage with industry professionals and other guest speakers to expand on their professional skills and knowledge and understanding of space exploration and the careers available within the field.
This virtual conference will happen over Zoom, and participants are required to complete the wavier and consent form in this registration form in order to attend and participate. A Zoom link for the conference will be sent to all attendees via email closer to the date. Please note that the schedule presented on our social media is subject to change. Registration closes on Wednesday, July 21.
We look forward to seeing you at the first-ever GROW STEM 2021 Space Conference!
View this post on Instagram
Updated on Monday, July 19, 2021.