Parent Involvement Committee (PIC) Virtual Session on Safe Schools Action Plan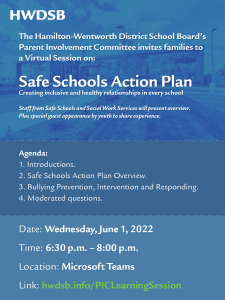 HWDSB's Parent Involvement Committee (PIC) will be hosting a virtual learning session on the Safe Schools Action Plan: Creating inclusive and healthy relationships in every school. All HWDSB families, staff, and community members are invited to attend the event.
This learning session will include presentations from HWDSB Safe Schools and Social Work staff on the Safe Schools Action Plan Overview, Bullying Prevention, Intervention and Responding, as well as other related topics. There will also be a special guest appearance by a former student to share experience.
Presentations will be followed by a moderated question-and-answer period. Please note that only questions relevant to the presentation will be answered. A recording will be available after the session for those who cannot attend.
Date: Wednesday, June 1, 2022
Location: Microsoft Teams
Time: 6:30–8 p.m.
Link to access the virtual session: hwdsb.info/PICLearningSession
Learn more about the session's topic: Safe Schools Action Plan
Submit a question in advance: https://forms.office.com/r/Tdp15NcfqB
Submit your question ahead of the session through the form embedded below or directly on Microsoft Forms. The deadline to submit a question is Tuesday, May 31 at 12 p.m.
Updated on Thursday, May 26, 2022.