Orchard Park Goes the Distance for Families Facing Cancer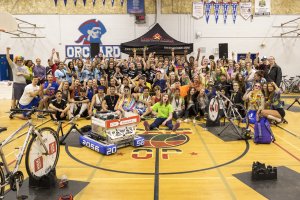 On Friday April 21, Orchard Park secondary's staff and students organized and participated in a two-hour cycling event to support families facing childhood cancer.
In its sixth year, OP raised about $9,000, which brings their total raised to about $69,000 over six years. All proceeds go to the families dealing with cancer through the Coast to Coast Against Cancer Foundation.
Orchard Park dedicated this year's Inside Ride to a Grade 10 student Sarah Stephens, who battled childhood cancer.
This year, 22 teams of six were encouraged to dress up; prizes are awarded for best team costume, top mileage, and top fundraisers. All prizes were donated by local businesses.
The Inside Ride is a great fundraising event that helps support families impacted by childhood cancer. Orchard Park looks forward to hosting this event for years to come.
Updated on Tuesday, May 02, 2017.