New Student Trustees Sworn In for the 2019-20 School Year
Hamilton, Ontario – May 27, 2019: Westmount's Ahona Mehdi and Sir John A. Macdonald's Cameron Prosic were sworn in as the 2019-20 Student Trustees at a Board meeting on May 27, 2019.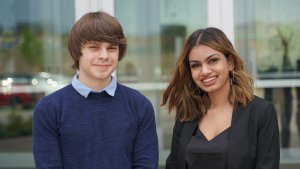 Student Trustees represent the voices and interests of all HWDSB students by bringing forward student perspectives. At the Board of table, Student Trustees may suggest motions to advance issues and may cast a non-binding vote. They also act as the co-chairs of HWDSB's Student Senate.
"Each year I'm amazed at the talents and abilities of our students as they seek the election of Student Trustees," said Alex Johnstone, Chair of the Board. "Once again, we feel that we have two very strong student voices to represent all of our students around the Board of Trustee table."
This year, 10 candidates applied for the positions. After an all-candidates on-line election, students selected Ahona and Cameron as their representatives for the 2019-20 academic year.
Entering Grade 12 at Westmount in September, Ahona has been a performer in various music groups and a leader in supporting and fundraising for underprivileged groups, newcomers, Indigenous peoples, and environmental causes.
"As a proud HWDSB student, I look forward to implementing practices of acceptance regardless of individual differences," said Ahona. "There's nothing more important to me than advocating for all of the creative and diverse minds within the HWDSB community."
Cameron Prosic is starting Grade 12 in September at the new Bernie Custis Secondary School. This is his second term as Student Trustee.
"I've been happy to serve as Student Trustee this past year with Tara Rezvan," said Cameron. "Together, we were able to start many initiatives that I will continue in my second term. I've learned so much in this role and this knowledge that I've gained will help me represent the voices of HWDSB students better."
The term for the new Student Trustees will run from August 1, 2019 to July 31, 2020.
– 30 –
Media Contact:
Shawn McKillop, APR
Manager, Communications and Community Engagement
905.515.6227 | smckillo@hwdsb.on.ca
Updated on Tuesday, May 28, 2019.