New Child Care Spaces Coming to Schools in the Hamilton Area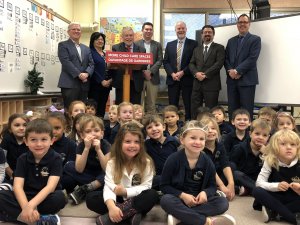 Media Release
MPP Ted McMeekin
Ontario is taking a significant step towards creating 45,000 new licensed child care spaces in schools, communities and other public spaces across the province including funding for 16 new child care rooms at 10 schools in Hamilton Region. As a result of this investment, locally, 445 children and their families will gain access to high-quality licensed care in a safe, convenient setting.
Ted McMeekin MPP for Ancaster Dundas Flamborough Westdale was at St. Augustine School with partners Hamilton Catholic District and Hamilton Wentworth District School Boards. Today representatives in Dundas today to announce the new child care spaces, including:
St Augustines
Holy Name of Mary
St. Thomas the Apostle
Bennetto
Dr. J Edgar Davey
EEC Notre-Dame
Helen Detwiler
Huntington Park
St. Kateri Tekakwitha
Bellmore Elementary
Helping more families access quality, affordable child care is an essential part of the government's plan for a fairer, better Ontario. It will give more children a safe, caring environment in which to learn and grow, and allow more women to go back to work and pursue their careers, which is critical to closing the gender wage gap.
As part of a five-year commitment to help 100,000 more children up to the age of four access child care, Ontario is investing up to $1.6 billion in capital projects alone. This will add an estimated 45,000 new licensed child care spaces in schools and other community settings. Additionally, the province is increasing operating funding and subsidies to help more children aged 0–4 years access quality child care.
During this period of rapid economic change, the government knows it must step up to create fairness and opportunity for families. In addition to providing easier access to affordable child care for 100,000 more children, the plan includes a higher minimum wage and better working conditions, free tuition for hundreds of thousands of students, and free prescription drugs for everyone under 25 through the biggest expansion of medicare in a generation.
QUOTES
"It is a privilege to share this great news about this increase in affordable and high quality child care close to home in our local school facilities. Ensuring a good start for our kids which compliments our strong education system is the right thing to do. Congratulations to our kids, parents and staff!"
-Ted McMeekin MPP Ancaster Dundas Flamborough Westdale
"The announcement of additional funding to construct new child care spaces for the youngest children in our community is great news. The Hamilton-Wentworth Catholic District School Board would like to express our deep appreciation to MPP Ted McMeekin for his tremendous support in making this happen."
-Patrick Daly, Chairperson, Hamilton-Wentworth Catholic District School Board
"At HWDSB, we are thrilled to be able to offer more child care spaces for local families, because we know that quality child care can be a fantastic early step in a student's educational journey."
-Todd White, Chairperson, Hamilton Wentworth District School Board
QUICK FACTS
Ontario is investing $231 million in 2017-18 to help create 493 new child care rooms in 188 schools across the province. As a result of this investment 8,440 children and their families will gain access to high-quality licensed child care.
Since 2012–13, the number of licensed child care spaces in Ontario has grown to almost 390,000 — a 32 per cent increase.
In June, Ontario released its Renewed Early Years and Child Care Policy Framework and Expansion Plan, which outlines a vision for a high-quality, inclusive and affordable early years and child care system.
LEARN MORE
Creating More Child Care Spaces Interactive map of Ontario's infrastructure investments in transit, hospitals, schools, roads and bridges
CONTACT
For further information, please contact
Ted McMeekin 905-690-6552
Updated on Tuesday, December 19, 2017.