Local Officials Visit HWDSB Schools for Take Your MPP to School Day
This week, schools across Ontario took part in Ontario Public School Board Association (OPSBA)'s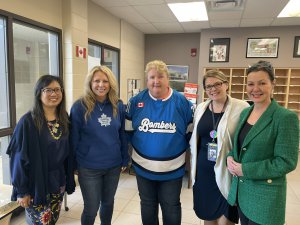 Take Your MPP to School Day!
The day provides an opportunity for Members of Provincial Parliament (MPPs) to witness the inspiring students, staff, and their experiences in public schools across the province.
On May 5, MPP. Hon. Donna Skelly visited Bellmoore Elementary School with Trustee Amanda Fehrman and Superintendent Estella Jones. After being greeted by Principal Milinovich, Ms. Skelly went on a tour of the school to meet students and staff. The school's Student Voice and Leadership Team introduced Ms. Skelly to the art of button making, where they displayed 'inclusive and equity-inspired' buttons made by Bellmoore students by hand. Ms. Skelly also learned about a podcast created for students, by students! Thank you to Ms. Skelly for a great visit!
On May 25, MPP. Hon. Neil Lumsden visited Lake Avenue Elementary School and Glendale Secondary School along with Superintendent Estella Jones and Trustee Todd White.
At Lake Avenue, Vice-Principal Tyrrell took Mr. Lumsden on a tour throughout the school to visit students, and introduce him to the school's 'Positive Space' areas. After chatting with Kindergarteners, Vice-Principal Tyrrell explained that it is a common practice for Lake Avenue staff to have one-on-one conversations with students to celebrate their achievements!
At Glendale, Principal Shroeder started the tour off with a sneak peek of the Audition-Based Program of the Arts' rehearsal of the Beauty and the Beast musical! Mr. Lumsden then headed to the gym to meet members from the boys football team, where he asked about their aspirations and shared his experiences playing the sport professionally. Thank you to Mr. Lumsden for the fun and engaging visits.
---
For more information on Take Your MPP to School Day, please click here.
Updated on Friday, May 26, 2023.