Instructions for Elementary and Secondary Device Return
As we approach the end of the 2021-22 school year, we want to share details surrounding the return of devices. All elementary and secondary students must return loaned devices before summer break. Please see below for specific instructions: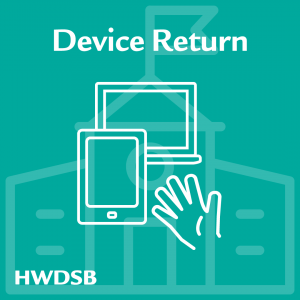 ELEMENTARY: All elementary devices are to be returned to home schools or the Education Centre on June 29 or June 30, including Remote Learning Program student devices and SEA devices. They can also be returned to the Education Centre throughout the summer. 
The devices should be labelled with the student's name, grade, and home school.  

 

Students who are registering for remote learning in the 2022-23 school year will be issued a new device at the start of the school year.

 
SECONDARY: All secondary students need to return their devices to their home school after completing their final assignments. Students registered for Summer School may keep their devices. 
All iPads will be locked down for the summer, effective June 29 at 4 p.m. 
Updated on Monday, June 20, 2022.