HWDSB Welcomes Hometown Hockey to Ancaster
Rogers Hometown Hockey is coming to the Ancaster community! Hometown Hockey travels across the country and features 25 different communities to celebrate local hockey stories.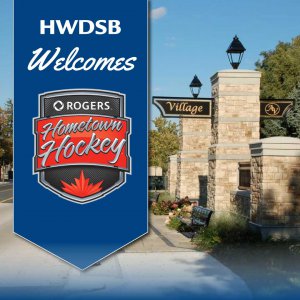 On each weekend, during the NHL season, a new community is featured and the celebration includes outdoor hockey festivities for all ages. The weekend brings communities together to celebrate both upcoming talent and alumni.
The Hometown Hockey Crew will be live on January 18 and 19 at Morgan Firestone Arena. One part of the festivities is an outdoor viewing party of a live broadcast of the Winnipeg Jets vs. the Chicago Blackhawks NHL game, which will be held on Sunday, January 19.
There will be a fantastic opportunity on the weekend as well for students to show their team spirit at the Parade of Champions. This is an opportunity for community teams to participate in a parade and sport their hockey jerseys to represent their local teams or their favourite hockey team.
HWDSB is working in partnership with Rogers Hometown Hockey to host several events on January 16 and 17, leading up to the weekend event. This means there will be a number of opportunities for HWDSB students to get involved!
On January 16, Ancaster High School will host Dundas Valley Secondary at Morgan Firestone Arena featuring rival Dundas Valley Secondary School in a girls and boys hockey games.  The game details are:
HWDSB Girls League Game – Dundas Valley vs. Ancaster (12:15pm)
HWDSB Boys Non-Contact Exhibition Game – Dundas Valley vs. Ancaster (1:30pm)
In between games, schools will participate in a Skills Competition at 1:00pm.
HWDSB welcomes all members of the community to join us on Thursday to support our students and add to the energy at the games.
In addition to these amazing games, Hometown Hockey also has a School Visit Show on Friday, January 17 at 10:45 a.m – 12:15 p.m. at Frank Panabaker Elementary School. The show will include:
MC
Mascot
Hometown Hockey video
Entertainment by a multi-talented performer
Surprise guest speakers will also be in attendance to talk to the students and conduct a Q&A session.
Updated on Friday, January 10, 2020.