HWDSB Siblings Raise Money for Saugeen First Nation by Selling Painted Rocks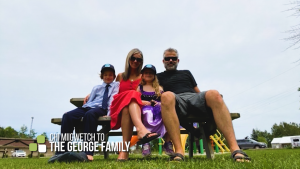 It may be the summer and schools may be closed at the moment, but that does not mean our students have stopped making us proud. Many HWDSB students continue to do some fantastic work in their communities, and some are even making an impact in other areas of the province.
Rousseau Elementary's Cohen and Ella were recently spotlighted by the Saugeen Ojibway Nation Environment Office after their painted rocks helped raise money for Saugeen First Nation. It was an inspiring act of selflessness that deserves every bit of recognition. Rock on, Cohen and Ella!
Check out the Environment Office's story and video below, which can also be found on its website:
Cohen (8) and Ella (5) George of Ancaster, ON painted and sold over 100 rocks to raise COVID Awareness while cottaging in Sauble Beach, ON. When their customers insisted on paying for the works of art, Cohen and Ella decided to donate the proceeds to Saugeen First Nation (SFN) to help out the efforts being made to control the recent outbreak of COVID-19 in the Community.
All told, Cohen and Ella raised almost $300. SFN Councillor Doran Ritchie met with the family to accept the donation, to thank the two artists for the generous donation, and to give them a little thank you gift bag full of goodies from the Environment Office. Chi-Miigwetch to the George family for raising awareness around COVID-19 and for their generous donation to SFN.
Updated on Thursday, July 22, 2021.