HWDSB Shares Director's Annual Report for 2017-18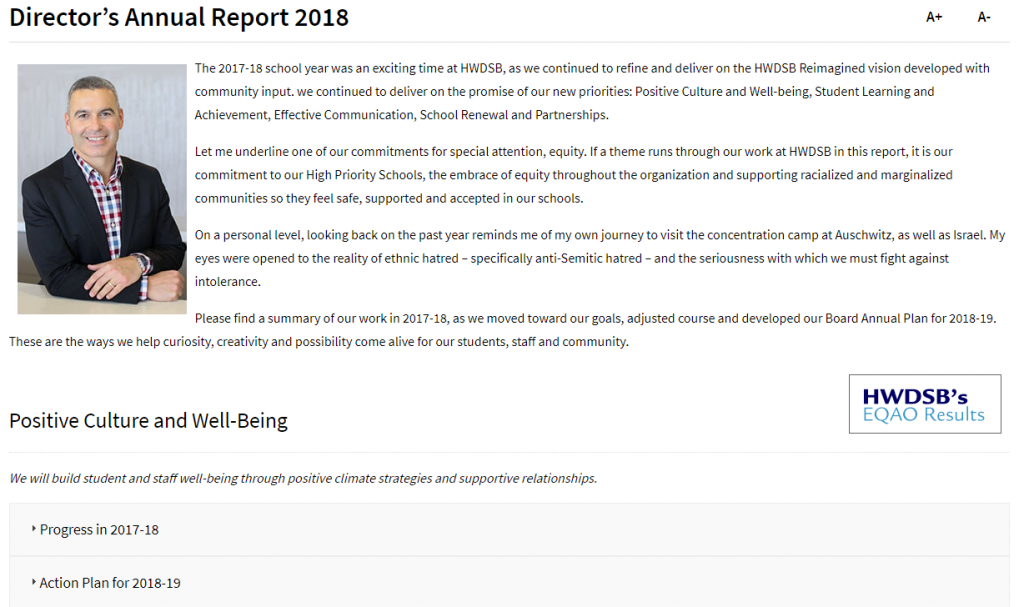 Hamilton, ON – Tuesday, Dec. 18, 2018: Hamilton-Wentworth District School Board's Director of Education, Manny Figueiredo, releases the 2017-18 Director's Annual Report to the Community, a collection of stories, progress reports on key priorities and action plans for the year ahead.
"The 2017-18 school year was an exciting time at HWDSB, as we continued to refine and deliver on the HWDSB Reimagined vision developed with community input. we continued to deliver on the promise of our new priorities: Positive Culture and Well-being, Student Learning and Achievement, Effective Communication, School Renewal and Partnerships.
"Let me underline one of our commitments for special attention, equity. If a theme runs through our work at HWDSB in this report, it is our commitment to our High Priority Schools, the embrace of equity throughout the organization and supporting racialized and marginalized communities so they feel safe, supported and accepted in our schools.
"On a personal level, looking back on the past year reminds me of my own journey to visit the concentration camp at Auschwitz, as well as Israel. My eyes were opened to the reality of ethnic hatred – specifically anti-Semitic hatred – and the seriousness with which we must fight against intolerance.
"Please find a summary of our work in 2017-18, as we moved toward our goals, adjusted course and developed our Board Annual Plan for 2018-19. These are the ways we help curiosity, creativity and possibility come alive for our students, staff and community."
Find the online report at www.hwdsb.on.ca/about/seniorteam/directors-annual-report-2018/
– 30 –
Media Contact:
Shawn McKillop, APR
Manager, Communications and Community Engagement
Cell: 905.515.6227 | Email: smckillo@hwdsb.on.ca
Updated on Tuesday, December 18, 2018.