HWDSB revved up for Bike to School Week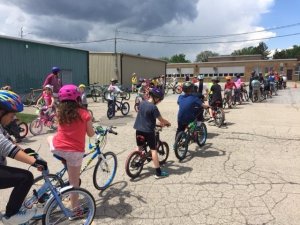 HWDSB is powering its pedals during Bike to School Week.
Bike to School Week is an annual campaign organized through Smart Commute, an initiative that helps individuals explore smart travel options. The 2017 campaign is spanning the week of May 29 as part of Bike Month, and motivates schools, students and families in the GTHA to bike to school.
HWDSB schools have taken creative spins on the week, implementing a variety of competitions and games to celebrate cycling.
Franklin Road elementary has various events planned for the entire week, such as Too Slow Tuesday, where students and staff competed to determine who was able to maintain enough balance to be the slowest rider to cross the finish line. Events such as Wacky Wednesday Bike Obstacle Course and All-Decked-Out Bike Parade are also in the agenda for the week.
Commuters at Franklin Road are also being given ballots for each commute they make to enter in a draw at the end of the week for prizes.
Gatestone elementary is also encouraging smart commuting by organizing a route to bike to school on June 2. Teachers will be picking up students on their way to school, and will be accompanied by Trustee Jeff Beattie and Superintendent Jeff Gillies.
Biking activities will continue throughout the month of June to celebrate and encourage smart commuting as part of Bike Month.
For more information, visit www.bikemonth.ca.
Updated on Thursday, June 01, 2017.