HWDSB Launches Three-Year Equity Action Plan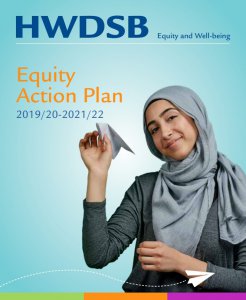 Hamilton, ON – Aug. 27, 2019: HWDSB launched a three-year Equity Action Plan today at a leadership event titled Equity in Action, marking the launch with spoken word poetry by talented artists and HWDSB students from Hamilton Youth Poets (HYP).
The Equity Action Plan envisions a culture shift throughout HWDSB that is built on recognizing and challenging systemic barriers that contribute to inequitable outcomes in the education system.
"We've made equity a system commitment so that everyone is safe, welcome and accepted in HWDSB schools and service departments," said Director of Education Manny Figueiredo. "We know that equity work is complex but essential if we are serious about improving outcomes for our students."
Aligning with Ontario's Education Equity Plan (2017), HWDSB's Equity Action Plan aims to identify and eliminate discriminatory practices, systemic barriers and bias focusing on four priority areas, which are:
School and Classroom Practices
Leadership, Governance and Human Resource Practices
Positive Culture and Well-being
Data Collection, Integration and Reporting
This action plan is intended to critically look at practices, programs and processes to eliminate any forms of discrimination including ableism, racism, sexism, classism, Islamophobia, anti-Semitism, homophobia, transphobia, etc.
"This is an ambitious plan, and we thank our committed staff and community partners for helping us move forward on equity," said Superintendent of Equity and Well-being Sharon Stephanian. "It takes many voices to have a challenging conversation like this."
Learn more about HWDSB's plan, Equity in Action, and view the HYP video at www.hwdsb.on.ca/equity.
– 30 –
Media Contact:
Shawn McKillop, APR
Manager, Communications and Community Engagement
T: 905.527.5092 x2941
C: 905.515.6227
Updated on Tuesday, August 27, 2019.