HWDSB in the News – June 2022
Please see some recent media stories, featuring HWDSB students, staff, schools, and more.
---
'The best birthday present': Freelton woman a high school graduate — after 8 decades
Isabel Mallon presented with honorary diploma on 100th birthday
By Mac Christie – May 29, 2022
After more than eight decades, Isabel Mallon is finally a high school graduate.
The Freelton-area resident celebrated her 100th birthday May 21 with more than 30 family members — and got a special present — a high school diploma.
She was presented the diploma by Waterdown District High School principal Theresa Sgambato, alongside Hamilton-Wentworth District School Board (HWDSB) Ward 15 trustee Penny Deathe and HWDSB manager of communications and community engagement Shawn McKillop.
"It's amazing," Mallon said of receiving the diploma. "I've looked at many other people's over the years, but I never ever expected this."
Mallon, who spent most of her life on the Hamilton Beach Strip, was six weeks from graduation at the Hamilton Central High School of Commerce when she left — at the urging of her father — to take a job with Bell Canada.
She had completed two years of high school at Delta High School, but her father felt that, as a girl, she should learn skills to get a job more quickly, so she switched to the High School of Commerce — and had to repeat her second year of high school due to curriculum differences.
Click here to read more in Flamborough Review.
---
Dundas' Yorkview School top Jump Rope for Heart fundraiser in Hamilton region
With 180 students, school surpasses original goal by more than $6,000
By Craig Campbell – June 9, 2022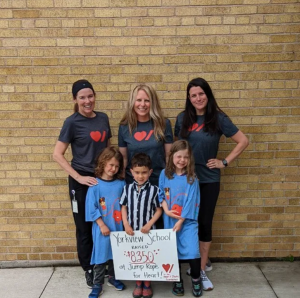 Yorkview School, with just 180 students, is the Jump Rope for Heart top fundraising school in the region and among the biggest fundraisers in Ontario, collecting $8,334 for Heart & Stroke Foundation.
It was the top fundraising total of all Hamilton-Wentworth District School Board schools and all Hamilton-Wentworth Catholic District School Board schools.
When Yorkview completed its event May 18, its fundraising total was 10th overall in Ontario. As more, likely larger schools, completed their events, Yorkview moved to 13th in the province.
Yorkview teacher and Jump Rope for Heart co-ordinator Katie Grantham said students surpassed their original $2,000 goal by $6,334.
Grantham said she's helped run the event for a few years after connecting with Heart & Stroke because, nine years ago, her own son had heart surgery at Sick Kids Hospital in Toronto at the age of one week.
"This cause has become so near and dear to me, and our little school community really stepped up this year in support of this cause," Grantham said.
She said the school followed through with a fundraising incentive Friday, May 27 — where the top fundraisers got to throw a pie in the faces of their teachers.
Click here to read more in Dundas Star News.
---
Kanétskare Elementary chosen as new name for HWDSB elementary school
Ryerson Elementary school is the first in the HWDSB to be renamed using the new school naming policy
By Jessica Maxwell – June 15, 2022
An HWDSB elementary school has a new name that pays tribute to the Indigenous Mohawk heritage, language and land where the school is located.
Kanétskare Elementary, pronounced Ga-nét-sga-re, is the new name for the school formerly known as Ryerson Elementary. Kanétskare is a Mohawk word that means 'By the Bay'.
In June of 2021 HWDSB trustees voted to create an Indigenous informed process, through ethical engagement and consultation with local Indigenous communities, that would be used to rename the school.
The Naming Circle that gathered to collaborate on the new name consisted of a variety of community members, including student, staff, parent, Indigenous education and Indigenous elder voices.
"Student and First Nations perspectives are so important," said Fallon Noakes, grade 6 student at Kanétskare Elementary and member of the Naming Circle.
Noakes is Anishinaabe, citizen of the Anishinabek Nation, member of Nipissing First Nation and said it was an honour to take part in the collaborative renaming process.
Click here to read more in CBC News Hamilton.
---
Jays Care program looks to promote baseball — and life — skills at Hamilton school
About 120 Bellmoore Elementary School girls are learning to play ball — and have confidence in themselves — through Blue Jays' Foundation program Girls At Bat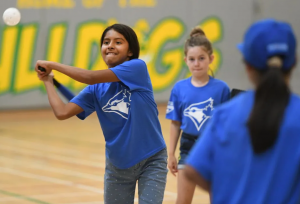 By Kate McCullough – June 18, 2022
About 30 girls sat in two haphazard rows against the gym wall at Bellmoore Elementary School donning roomy Blue Jays T-shirts and oversized baseball caps. At the instruction of their coach, they leap to their feet, leaving a trail of pink, tie-dye and polka-dot lunch bags behind.
"It doesn't matter if you know their name," calls teacher Rachel Cronsberry, encouraging students to pair up for the first drill. "That's part of what we're doing here, getting to know people."
Some partners are already friends, others meeting for the first time.
"Introduce yourselves," the teacher says to two students smiling shyly at one another.
Softball, the teacher-coaches explain, is just as much about friendship, confidence and self-esteem as it as about perfecting a swing or learning to catch a fly ball.
"It's not even just about the baseball," said Katie Mackrory-Armstrong, the teacher who heads up the program. "The purpose of it is the sense of belonging."
This is the first of a four-year program called Girls At Bat, an initiative of the Jays Care Foundation. Already 120 girls from Grade 2 to 5 — and several volunteers — at the Binbrook school have signed up, forming three age groups that each play once a week during 40-minute nutrition breaks.
The program is open to students who identify as girls, and all equipment — balls, bats, gloves, bases and a tee — as well as a curriculum for teachers are provided by the foundation.
Click here to read more in The Hamilton Spectator.
---
Arkells celebrate with Hamilton community at opening of new Woodlands Park basketball court
By Lisa Polewski  – June 25, 2022
A brand new professional-grade basketball court has been officially unveiled in the lower city, thanks to the work of a beloved Hamilton band.
The Rally Court at Woodlands Park was made possible by Arkells, who began working with councillors Nrinder Nann and Jason Farr in January on a plan to refurbish a court in a part of the city that most needed it.
Arkells frontman Max Kerman said he always likes to play basketball at local courts when the band is on tour but realized Hamilton didn't have any high-quality public courts and said they wanted to change that.
"We just asked, what's the neighbourhood that could use a little bit of love? What's the park that could use a little love? And they said Woodlands is the spot."
The band fundraised about $80,000, thanks to big-name donors like Ron Foxcroft and the Foxcroft Family, Toronto Raptors' head coach Nick Nurse, Raptors superfan Nav Bhatia and Basketball Canada.
Foxcroft presented Max Kerman and the rest of the Arkells with a Fox 40 gold basketball in honour of their fundraising efforts to make the court at Barton and Wentworth a reality.
Youth from Bernie Custis Secondary School and the Eva Rothwell Centre play the inaugural game of basketball on the new court.
Click here to read more on the Global News website.
---
'A thing of hope': The dedication of Queen's Platinum Jubilee Treaty Forest in Waterdown
By Julia Lovett-squires – June 21, 2022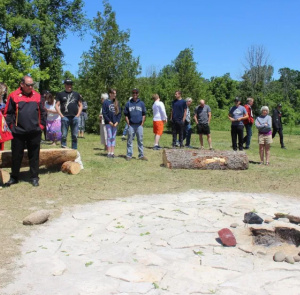 Standing next to a white pine at Joe Sams Leisure Park in Waterdown, Mississaugas of the Credit First Nation Chief R. Stacey Laforme tells a story.
Just as the dedication ceremony of the Queen's Platinum Jubilee Treaty Forest was set to commence, the Commonwealth delegation from the United Kingdom visited with Mississaugas of the Credit First Nation Councillors and Elders at which time one of the British guests tripped and fell and scraped his head.
"I said that that's almost symbolic of the relationship we've had with the Crown over time. It hasn't always been friendly and calm, there's been bloodshed, there's been pain and suffering," said Laforme.
"The act of falling and spilling that blood on the ground, you know, I thanked him for doing that — for taking one for everybody here. That symbolism that he created for us was very strong," he added before honouring Queen Elizabeth II on her 70 years on the throne.
The event that brought elders, local dignitaries, community members and an official Commonwealth delegation together in Waterdown was a culmination of a months-long collaboration between the Mississaugas of the Credit First Nation, City of Hamilton, Rotary Club of Waterdown and Waterdown Lions Club, and Waterdown District High School's treaty studies class. The goal: to honour Waterdown's relationship with its treaty partner, the Mississaugas of the Credit First Nation, by planting 70 trees at the Centre Road Park that now serves as a permanent monument and signage explaining the treaty territory Flamborough is a part of.
"The purpose of the treaty forest was to honour our relationship with the land and our treaty partners by creating a space to educate our community about its responsibilities in treaty," said Waterdown District High School student Marissa Iozzo.
Students worked alongside the Mississaugas of the Credit First Nation for the last four months to design the monument stones, planned a Sacred Fire and selected the trees — all species indigenous to the area. They were planted by Environment Hamilton volunteers.
Updated on Thursday, June 30, 2022.