HWDSB Bands Together to Deliver Special Gift to Former Staff Member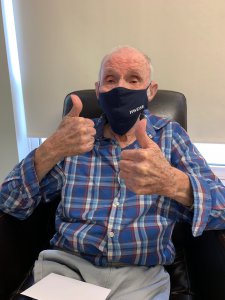 As Random Acts of Kindness Week comes to an end, we want to take a moment to spotlight a beautiful gesture from some of our Education Centre staff.
Just before the holidays, our office received a call from Kathy, the daughter of a former staff member. She explained that her father was a caretaker for many years and is now living in a nursing home. James recently began talking about his time with HWDSB and mentioned that he did not receive a retirement gift for some reason.
Kathy decided to reach out in hopes that she could purchase a retirement gift for her father. After hearing the story, our staff members knew they could do her one better.
HWDSB's Human Resources team was contacted and they were able to find James' employee file. The folder included his original letter advising of his retirement. Our Education Centre staff was also able to track down an assortment of gifts for James, free of charge.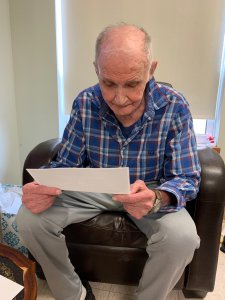 When Kathy came by to pick up the package, she started crying after seeing everything that the team had put together.
On December 25, Kathy was able to surprise her father with an assortment of gifts. James also became choked up after finding out he had received a commemorative watch and trophy, drawing of his school, original retirement letter, HWDSB mask, and a bell that he just cannot stop ringing (our apologies to the staff at the home)! The gifts, especially the letter, brought back many memories for James. He and his family did not expect to receive so many tokens of appreciation.
Thank you to the staff members at the Education Centre who helped light up the holiday season for James and his family. Zora, Annette, Tracy, Amy, Claire, and all the other folks who had a hand in this act of kindness went above and beyond to show appreciation for a member of the HWDSB community.
Acts of kindness do not have to be limited to just one week of the year. We hope this story has inspired our students, staff, and families to never shy away from putting a smile on someone's face.
Updated on Friday, February 19, 2021.