HWDSB and CUPE reach tentative local agreement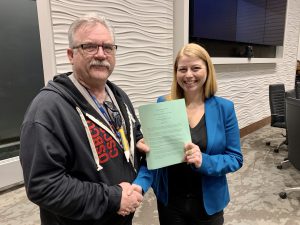 Hamilton, Ontario – March 10, 2020: Hamilton-Wentworth District School Board and the Canadian Union of Public Employees (CUPE) Local 4153, which includes custodial and maintenance workers, are pleased to have reached a tentative local agreement.
"HWDSB and CUPE Local 4153 are pleased to announce that after several months of respectful and productive local negotiations, together we have reached a tentative local agreement," said Alex Johnstone, Chair of the Board. "Trustees approved a tentative local deal that will now be presented to members of CUPE 4153 for ratification. The agreement represents a strong commitment between HWDSB and its workers. CUPE members are highly valued in the education system and are integral to supporting student success."
The Collective Agreement settlement reached is for the period of September 1, 2019 to August 31, 2022 and amended as per the School Boards Collective Bargaining Act. CUPE represents approximately 500 employees in HWDSB. As a result of the local agreement, the Board will be in receipt of the Investment in Systems Priority funding negotiated at the central table.
"On behalf of the members of CUPE 4153 and the bargaining committee, I would like to thank HWDSB's management group and Trustees for their support," said Dave Dickhout, CUPE Local 4153 President. "CUPE members at HWDSB work hard every day to make sure schools are clean and safe. We appreciate the Board's kind words about our contributions to our public education system. The bargaining committee also appreciates the high level cooperation and commitment required to achieve this tentative agreement."
The tentative agreement still requires ratification by both parties.
"We're proud of our collective work in reaching this collective agreement," said Johnstone.
-30-
Contact:
Shawn McKillop, APR
Manager of Communications and Community Engagement
905-515-6227 | smckillo@hwdsb.on.ca
Updated on Friday, September 24, 2021.