HOCKEY: Westmount secures girls hockey title with overtime victory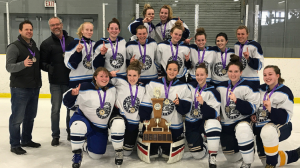 HAMILTON (April 6, 2017) – The Westmount Wildcats claimed girls division-II hockey crown on Wednesday (April 5) edging Sherwood 2-1 in overtime at Chedoke Twin Pad Arena.
Claire Johnston snipped the game winning goal at 5:19 of the first overtime frame to hand the Wildcats their first division-II title since the 2010-11 season.  Deanna Wardell tallied an assist on the play.
Sherwood opened the games scoring in the first period when Julia Heslinga got the Saints on the board just 5:36 into the game.  That lead was short lived as Westmount responded minutes later when Jane Newcombe scored to tie the game at 1-1.
That score held until the overtime goal decided the championship.
This marked just the second time Westmount has raised the girl's division-II trophy with their first coming against the former Highland Secondary back in 2011.
Westmount cruised through round robin play with a perfect 4-0 record scoring 16 goals and allowing just two goals.  They then dusted Sir Allan MacNab 5-1 in the semifinal game to head to the championship game
Sherwood was the third best team coming out of the round robin posting a 2-2 record.  They upset  No. 2 seed Westdale 3–0 to advance to the final.
Stay Connected with HWDSB Athletics
For schedules, results and news visit: http://www.hwdsb.on.ca/athletics or follow us on Twitter @HWDSB_athletics​
Updated on Thursday, April 06, 2017.