Hamilton Public Health Services & Lynwood Charlton Centre Launch Mental Health Webpage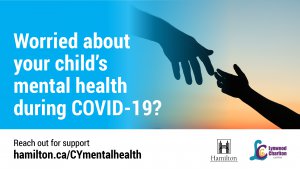 The past twelve months have been a roller coaster for many people, and students are no exception. Well-being during COVID-19 has been an important initiative for HWDSB and we continue to strive to share tips and strategies with families.
Hamilton Public Health Services alongside the Lynwood Charlton Centre have created a resource webpage to help those looking for mental health support for children and youth during the pandemic.
The webpage includes information about:
recognizing the signs of a mental health concern
mental health services
substance use services and resources
supporting child and youth mental health during COVID-19, including a youth-focused section with ways that youth can help to support their own mental health
Youth involved with the Lynwood Charlton Youth Engagement Co-Development Team played a large role in the creation of the resource page. They used their own personal experiences with mental health during the pandemic to provide feedback and input on the featured content.
"The impact of COVID-19 on the mental and emotional well-being of families, especially children and youth, is real and concerning," said Louise Murray-Leung, Family Engagement Lead, Lynwood Charlton Centre and Volunteer Chapter Leader, PCMH Hamilton. "The best thing families can do is to reach out with any questions or concerns they have. This can lead to helpful, timely support for their child or youth, which benefits everyone in the family."
Knowing that a lot of children and youth are struggling, there are some general ways that families can support their mental health:
Listen to your child's questions and concerns.
Validate and support your child in a calm manner.
Be patient with yourself and your child, know that it is normal to have many emotions.
Help your child to focus on what is within their control.
Have a routine at home that includes time for fun.
Stay connected with important people in your child's life while following current public health measures.
Updated on Tuesday, January 26, 2021.