Faces of Hamilton Health Sciences: Ivan Quach, Elementary School Room Teacher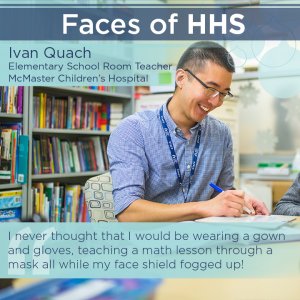 Ivan Quach is the Elementary School Room teacher at McMaster Children's Hospital (MCH). The Elementary School Program is a partnership between the Hamilton Wentworth District School Board (HWDSB) and MCH. Ivan has worked for HWDSB for 4 years, and started working at the Elementary School Room at the beginning of the school year, in September.
Tell us about your first day at HHS. My first day at HHS was a big first day of learning! I began my morning with only two elementary school aged patients in the School Room, which gave us a great opportunity to learn from each other and get acquainted. I also had a chance to explore the wards to meet other new potential students. The setting is completely different than a traditional school. I feel privileged to be able to engage patients in learning while they are receiving care.
Updated on Tuesday, January 31, 2017.