Educational Assistant Jessica Compton: A helper who has been there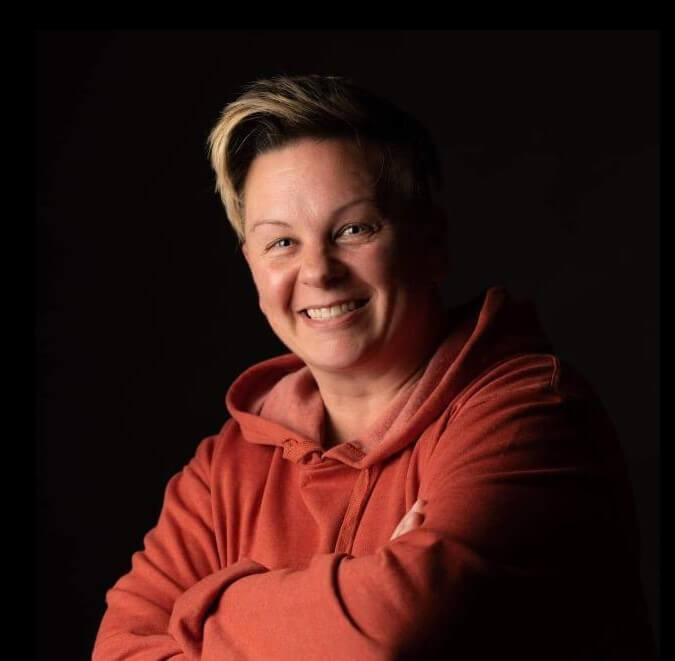 It's a common question for educational assistant Jessica Compton: what inspired you to create Tree of Stars and spend countless hours promoting mental health and addiction recovery through storytelling, live music and meditation?
To put it simply, she has been there.
"I was fortunate to get cleaned up, get therapy, get to the core of the trauma and become awake," said Compton, after the dismissal bell at her east Mountain school.
Jessica's childhood story involves abuse, neglect, foster homes, addiction, arrests, incarceration, homelessness. But after rehab, she finished high school at 21, attended college, worked in group homes, started as an EA at HWDSB – and felt that she wanted to give back.
"To go that extra mile and share my story, maybe that kid is going to say, 'That staff doesn't have that perfect world."
Tree of Stars began after a low point for her, following surgery that kept her aware from work and deep in thought. It became her project. In April 2017, she began to tour cafes, dropping off literature to help others, and then hosting journaling, music and meditation workshops. Starting out took a lot of shoe leather; some days, she and her cousin Teresa visited 25 cafes a day.
"During the five months when all I could do was sit, I got back into journaling and self-help books. I realized, 'Oh my, I don't think I am healed.' I think that we always have work to do as humans," Compton said.
Since then, Jessica has spent many hours volunteering her time creating wellness events focused on self-care and personal storytelling. She runs Zoom meetings with musicians for people who wished to meditate, and nightly Instagram interviews with those struggling with mental health and addiction. She gets up to 40 people per session.
As she developed Tree of Stars, Compton learned about design, budgets, marketing, leadership, donations, documentation, evaluation, community trust, and so much more.
She has also attracted attention. This year, from the YWCA's Women of Distinction Awards. They celebrated Compton as someone who demonstrates exceptional leadership in the category of community leadership through the community engagement initiatives she provides.
She is "a strong advocate against bullying and has been a guest speaker for numerous podcasts and events. Jessica is a natural leader, creative and innovative. She has broken down barriers in her own life as she has navigated her journey with addiction and inspires others through her dedication and support," the YWCA wrote.
"It was comforting to be recognized," said Compton, who also works at the after-school YMCA program at Highview.
As she reflects, Compton remains inspired by the people who never gave up on her. The many therapists who kept her focused on goals and self-care – which she still does.
"I would say sleep is number one, because we are not productive without a good night's sleep, as well as water intake, and some sort of movement," said Compton, who calls herself an 'imperfect human' who gained weight in the pandemic when eating and Netflix were easy.
There are also some important reminders.
"Reminder you are not alone, that you are not a burden. You are enough and we want you to reach out at any time. If we can't help you, or be of any resource to you, we want to guide or reference you to a place that can."
See HWDSB Mental Health and Well-being resources.
A few questions with Jessica Compton:
What is the best way to describe Tree of Stars?
"Promoting mental health and addiction recovery by telling their story through music, art and wellness resources. I went from sharing my story to having a journal workshop and it accumulated into other things. I released an album with 13 different female musicians, I have had students from Humber College do a documentary on me and follow me around for four days." See links.
What one book would you recommend people read?
"The book Awake by Evan Sutter is like a mini-Bible of mindful activities, from eating to sitting to movement. It is a small, easy read, even for kids. I also like Louise Hay, who has a lot of books, and Jay Shetty (Think Like a Monk)."
What would you say to a young Jessica if she came to see you today?
"I don't think I would have much to say because sometimes we don't have control over the experiences we have. It was a tough roller-coaster, but it does get better, then get worse, then get better and worse. The message to adults around me would be to build different toolboxes, to take space, get a proper sleep, talking or listening. I feel like the message would be to the adults around us… ask that child, 'What do you need?'"
Updated on Wednesday, July 27, 2022.