Dundas Valley STAT team providing technical support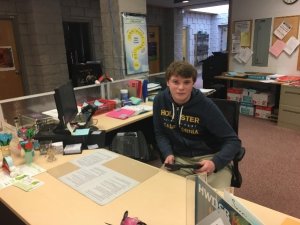 Dundas Valley Secondary School is nurturing its very own Apple genius.
Grade 11 student Jordan Curnew is providing technical help to students and teachers as part of Dundas Valley's Student Technical Assistance Team (STAT).
DVSS teacher-librarian Lisa Dupuis thought it would be a great fit after Grade 9s at her school received iPads through Transforming Learning Everywhere.
"We were getting a lot of questions, concerns and issues generated because of that, so I tried to troubleshoot," Dupuis says. "I'm only one person and it was a lot. Having worked with students before, I thought that I could get some students involved and be able to give them a credit for it."
At the Board level, the STAT concept also involved Jared Bennett, 21st Century Learning Consultant. It was initially launched in 2014 at Adelaide Hoodless as an extracurricular club supporting teachers and students with the 1:1 iPad deployment. Dr. Davey and Cathy Wever adopted it more recently.
Curnew participates in STAT as a part of his peer tutoring credit, and operates in a genius bar style. Students and staff with questions can create a ticket or book an appointment, and are provided with software-based and instructional support.
Curnew also experiments with applications and creates tutorials to answer frequently asked questions that are posted on the STAT website. He is educated in technology such as iPads, AirPlay, Google Drive, and other computer software.
"I've figured out a lot of the technology by myself. I've always been pretty good at using technology," says Curnew. "I've learned by trial and error."
Dupuis hopes to expand the STAT team to have one student on duty for each period of the school day.
"STAT gives students the opportunity to ask help from another student, which is beneficial for all students," says Dupuis. "If it is a success, my hope is that next semester to increase even by just two students."
Currently, Curnew is providing mobile assistance by rotating through classrooms offering technical support and teaching students how to access the STAT website.
For more information, Dundas Valley staff and students can access STAT services through The Hub.
Updated on Thursday, May 04, 2017.